ANNOUNCING THE RELAUNCH OF TWO POPULAR WEBCOMICS—
PLUS THE COMPLETION OF KORAK THE KILLER!
THE OUTLAW OF TORN RIDES AGAIN!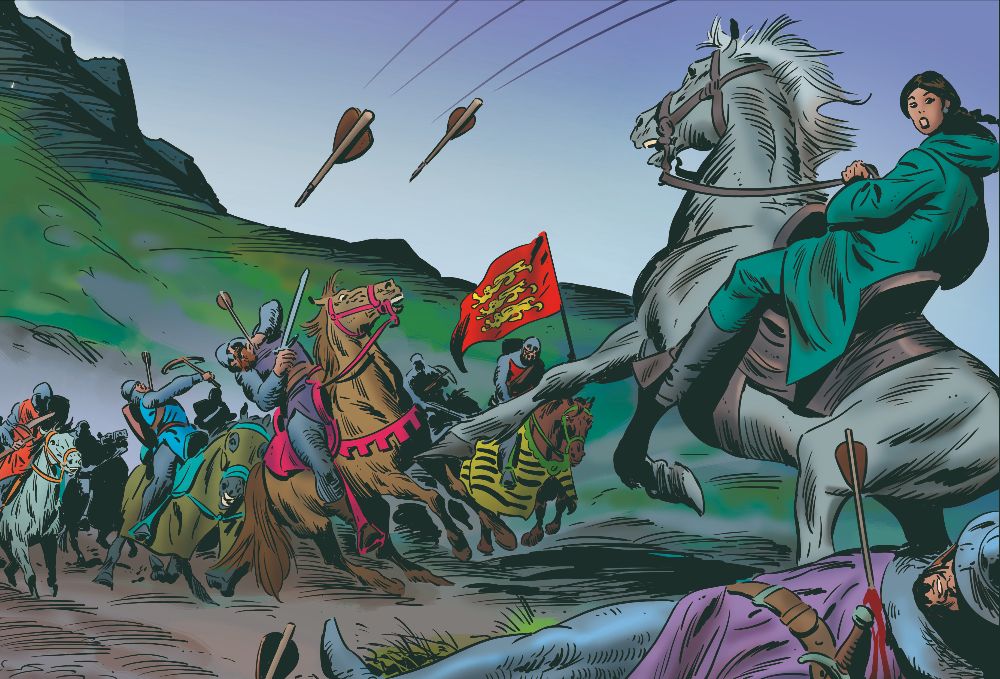 Although it's been a long while since its last installment was posted back in September 2019, The Outlaw of Torn™ online comic strip is now available again in brand-new episodes! With bright colors by renowned artist Benito Gallego (Tarzan®: The New Adventures) and a rip-roaring script by prolific writer Tom Simmons (I Am a Barbarian™ online comic strip), the strip is going to be well worth the wait! After Under the Moons of Mars was published in 1912, The Outlaw of Torn became Edgar Rice Burroughs' next creation, even before he wrote Tarzan of the Apes. However, The Outlaw of Torn failed to see print until finally it was published as a five-part magazine serial in 1914 and as a novel in 1927. Today, The Outlaw of Torn is regarded by many fans as one of finest works ever penned by the Master of Adventure.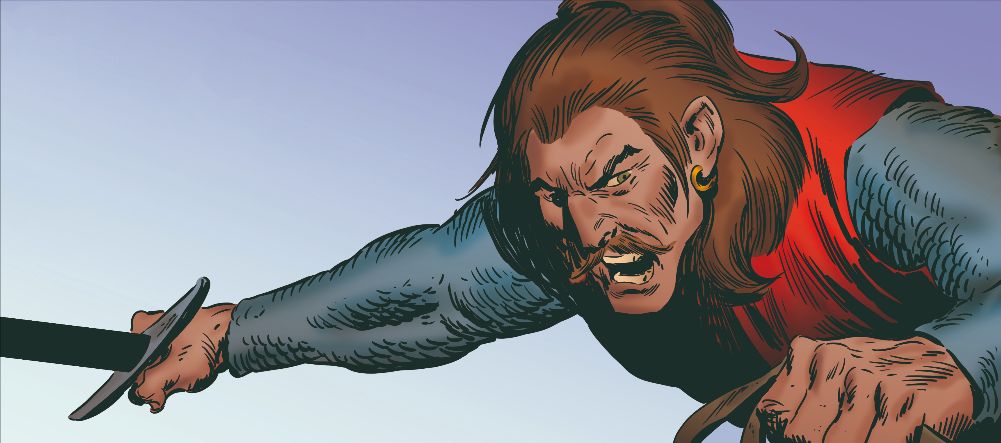 Subscribe to our Edgar Rice Burroughs Online Comic Strips now!
THE OUTLAW OF TORN CREATIVE TEAM
Screenwriter/graphic novelist Tom Simmons is a six-decade Edgar Rice Burroughs fan. "I read my first Burroughs novel—Pirates of Venus—at the age of twelve back in the 1960s, and I've been an avid devotee ever since. I always thought it would be great fun to adapt a Burroughs story to screen or other format, so in 2013 I contacted Jim Sullos regarding the idea of writing a film script for an ERB novel—it was Tarzan at the Earth's Core, as I recall." Although Sullos politely informed Simmons that the license was taken at that time, they remained in touch, and a year later Tom joined the team working on ERB, Inc.'s online comic strip project. Last year Tom published a deluxe hardcover edition of one of those strips, I Am a Barbarian, and his future plans include publishing the Outlaw of Torn strip in hardcover.
Since 2010, Tom has written two feature-length screenplays, a screen miniseries, and a pilot for a miniseries. On his writing desk for 2023 is a screen pilot adapting Robert E. Howard's 1934 novella "The People of the Black Circle." Simmons was nominated in five screenwriting categories at the 2010 Action on Film Festival. He lives in Castle Rock, Colorado, with spouse Kim.
Benito Gallego comes to American comics via Spain, where he attended the Faculty of Fine Arts in his hometown of Madrid and made his first forays into comics, advertising art, and graphic design. His first professional comics assignments were with Roy on his Anthem and Captain Thunder & Blue Bolt stories at Heroic Publishing. In 2016, he again teamed up with Roy on ERB, Inc.'s Tarzan: The New Adventures online comic strip, which continues to this day. Benito's other clients include DC, Marvel, Upper Deck, and others.
In June 2022, Dark Horse published the first volume of Tarzan: The New Adventures in a hardcover collection. Coinciding with this, an exhibition was held at an art gallery in Rome showcasing his original art for the strips. In 2023, Benito began working with writer Dan Jurgens on the Lord of the Jungle miniseries for Dynamite Entertainment.
Benito lives in Alicante, in the East coast of Spain. You may follow his art at https://www.facebook.com/benitogallego.art/
RETURN TO THE WORLD OF POLODA!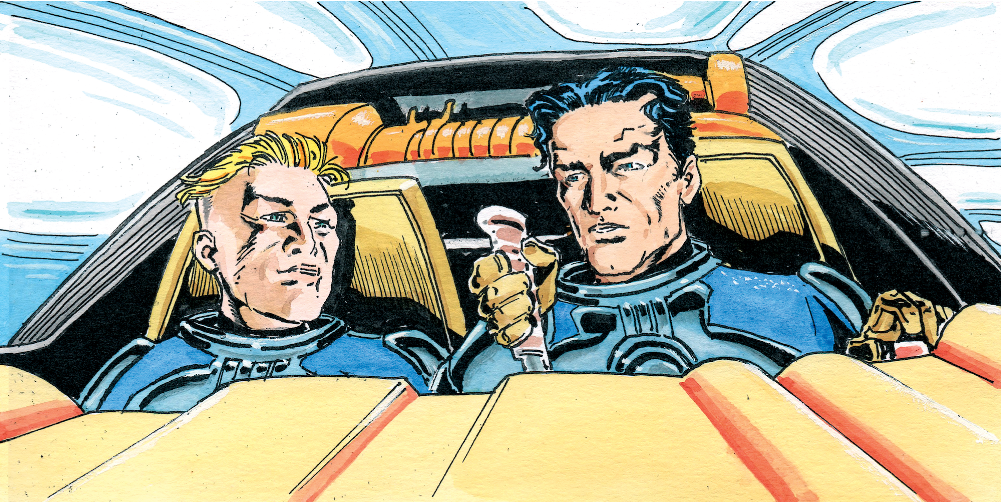 A change in artists brought about the temporary suspension of the Beyond the Farthest Star online comic strip in January 2021, but now it's back like never before with fan-favorite artist Silvestre Szilagyi, who previously drew The Mad King web comic strip for us. The strip will continue to be written by noted author Michael Tierney, the mastermind behind the gorgeous Edgar Rice Burroughs 100 Year Art Chronology (and who is about to release his new Robert E. Howard Art Chronology). A whole new universe was being created by Edgar Rice Burroughs when he wrote Beyond the Farthest Star, but this burst of imagination was interrupted by World War II, when he devoted his energies toward helping win the war in the Pacific, in whatever he could contribute, leading him to becoming one of the most popular correspondents in the Pacific Theater during the war.

BEYOND THE FARTHEST STAR CREATIVE TEAM

Michael Tierney has been writing since he learned to spell his first two words, Stop and Go, which he used to complete a crude comic strip about military tanks crossing hills and rivers. In high school, he was editor of the school paper and went to the State Finals in Journalism. Even before that he had already published his first science fiction tale of the Wild Stars, which was published in the fan pages of Eerie magazine. By the age of twenty-two, he was managing a printing division of International Graphics and had already released a self-published magazine of his art and stories: The Multiversal Scribe. Elected to multiple terms as a city councilman, he has been a book retailer since 1982, was a finalist for multiple retailer awards, and has been an Overstreet Price Guide advisor since 1999—writing over a thousand industry articles and reviews. His Wild Stars comics from the 1980s through the early 2000s have been collected into Wild Stars: The Book of Circles—Recalibrated. He also wrote a Wild Stars role playing game for Troll Lord Games, and continues to release a new Wild Stars novel every year through Cirsova: Magazine of Thrilling Adventure and Daring Suspense. Cirsova subsequently releases them in hardcover and magazine formats, and has collected his first four books into a massive omnibus that includes a compendium of characters, places, and events. Cirsova also published other short stories and essays by Michael, including his posthumous collaboration with Edgar Rice Burroughs, "Young Tarzan and the Mysterious She." He writes, letters, and colored the first two years of the online comic strip Beyond the Farthest Star for ERB, Inc., and created the four-volume Edgar Rice Burroughs 100 Year Art Chronology. His four-volume Robert E. Howard Art Chronology is coming soon. He is a certified Master Scuba Diver, and this hobby includes underwater photography, with sharks being his favorite subject.
Silvestre Szilagyi was born in 1949 in Buenos Aires, Argentina. From 1968 to 1970, he studied comic art, known then as "Histoieta," under Alberto Breccia at the the interdisciplinary art school I.D.A. (Instituto de directores de Arte). In 1970, he opened the Estudio Geminis with Gaspar Gonzalez. Fellow artists Mulko, Gil, Leopardi, and many more worked there regularly, sharing opinions and critiques. From 1974 and on, he worked for Record, the second largest publisher in Argentina, on such books as Skorpio, Corto Maltés, Pif Paf, and Tit Bits. Around 2007, he began doing work for Moonstone Books, completing around 450 pages of The Phantom, as well as working on other characters. He has published over ten thousand pages, and still loves drawing. Silvestre was also an artist on The Mad King online comic strip for ERB, Inc.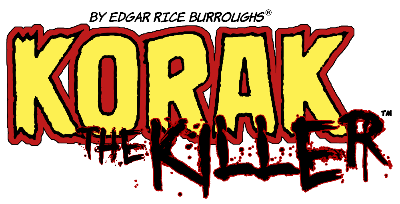 THE CONCLUSION OF KORAK THE KILLER!


To everyone's delight, the Korak the Killer online comic strip returns for the satisfying completion of its first story segment. Ron Marz and Rick Leonardi have come back as writer and artist to finish it up, with Maggie Lopez jumping in on the coloring and Troy Peteri handling the lettering.



KORAK THE KILLER THE CREATIVE TEAM
Writer
A lifelong Edgar Rice Burroughs fan, Ron Marz has been writing comics for more than two decades, starting his career with a lengthy run on Silver Surfer for Marvel. Since then, he has worked for virtually every major publisher and compiled a long list of credits, including stints on Green Lantern for DC, Star Wars and Conan for Dark Horse, Witchblade for Top Cow, and as a staff writer for CrossGen Comics.
Among Marz's most recent work is the rejuvenation of the Top Cow publishing line, including his defining Witchblade run. Other recent credits include Blackburn Burrow, the first comics project ever from Amazon Studios, and the crossover series Prophecy for Dynamite Comics. Marz is also working with NFL player Israel Idonije to develop and launch The Protectors for Idonije's Athleta Comics.
Marz's creator-owned series include the all-ages tale Dragon Prince at Top Cow; the historical adventure Samurai: Heaven and Earth, and the science-fiction story Pantheon City at Dark Horse; and the vampire tale Shinku at Image. Marz and acclaimed artist Stjepan Sejic also have teamed for Ravine, a series of fantasy graphic novels from Top Cow/Image.
In addition to his comics credits, Marz has worked in the video-game industry on a number of Activison titles, and writes a regular column for Comic Book Resources, the number one comics-related website.
Artist
Rick Leonardi began penciling in 1980 with an issue of Thor. His subsequent Marvel Comics credits include work on Cloak & Dagger with writer Bill Mantlo, X-Men and The New Mutants with Chris Claremont, and Spiderman 2099 with Peter David.
Among Leonardi's work at DC are runs on Birds of Prey with Chuck Dixon, Nightwing, Batgirl, Vigilante with Marv Wolfman, and Superman with Kurt Busiek. He was penciler for the Green Lantern vs Aliens crossover between DC and Dark Horse Comics, written by Ron Marz. Other Dark Horse work includes work on Star Wars: he was teamed again with Chuck Dixon on General Grievous, and with Ron Marz on Darth Vader vs Darth Maul. He is responsible for the pencils, and at least some of the plot for Aliens vs Predators: Three World War.
Leonardi's most recent project, nominated for both a Glyph award and an Eisner for Best New Series, is Watson & Holmes: A Study in Black, for New Paradigm Studios, which features scans straight from his pencil art.
One of the oldest, most beat-up books in his studio library, often consulted and swiped from to this day, is the 1972 edition of Tarzan by Burne Hogarth, which Leonardi is pretty sure he bought the year it was published. He's personally delighted to team up once more with the inestimable Ron Marz, and to return to the world of Edgar Rice Burroughs which inspired some of his first scribbles so long ago.
Letterer
Troy Peteri is a Harvey Award-nominated letterer from Milwaukee, Wisconsin. Growing entirely weary of deathly cold winters, affordable beer, and a cheap cost of living, he moved to sunny Los Angeles in the late '90s and has worked professionally in comics ever since. He has lettered comics such as Amazing Spider-Man, Iron Man, Wolverine, and has been the regular letterer for all of Top Cow's monthly titles since 2005. He co-wrote the mini-series Abattoir for Radical Entertainment and is currently writing 77 Hero Plaza (with co-creator/artist Dave Lanphear) for Thrillbent.com.


Residing in Asunción-Paraguay, Maggie Lopez is a student of graphic design as well as a rising artist in the comics and animation industry.
Enjoy the Adventure!
The first new episodes of each of these webcomics will be posted this Saturday, February 18th.
Check them out in our Online Comic Portal then!
---
© Edgar Rice Burroughs, Inc. All Rights Reserved. Trademarks Tarzan®, Tarzan of the Apes™, Lord of the Jungle®, Korak™, Korak the Killer™, The Outlaw of Torn™, Beyond the Farthest Star™, I Am a Barbarian™, The Mad King™, and Edgar Rice Burroughs® Owned by Edgar Rice Burroughs, Inc. Associated logos, characters, names, and the distinctive likenesses thereof are trademarks or registered trademarks of Edgar Rice Burroughs, Inc.