In the Wild Adventures of Edgar Rice Burroughs series, today's authors innovate and expand upon Burroughs' classic tales of wonder in truly wild fashion, even moving his characters and storylines outside the bounds of canon to alternate universes! Skies of Venus, the latest volume in the series, transports readers back to the mysterious, shrouded world of Amtor that was discovered by Carson Napier in Edgar Rice Burroughs' classic novel Pirates of Venus, but this time to experience it through the eyes of an Earthman of the twenty-first century.
Skies of Venus: A Novel of Amtor by Neal Romanek features cover art by Richard Hescox and interior illustrations by Douglas Klauba, and will be available in paperback, hardcover, and a hardcover Collector's Edition. The book is expected to ship Winter 2021/2022.
Intrigue on Amtor
Virgil Erath is on death row for a crime he didn't commit. But he gets a new beginning when he is mystically transported to a planet of hallucinatory landscapes, warring humanoid races, and a cloud-filled sky that has never seen the sun. The inhabitants of this world call it Amtor—others have called it "Venus."
Captured by a clan of winged warriors, Virgil is brought before the great Jong Kum Kloojong. But this "king of kings" is under attack by a deadly terrorist sect, and Virgil may be his only hope of saving Amtor from an apocalyptic war.
Special Offer with Preorder of Hardcover Collector's Edition—
Collectible Trading Card and Signed Bookplate!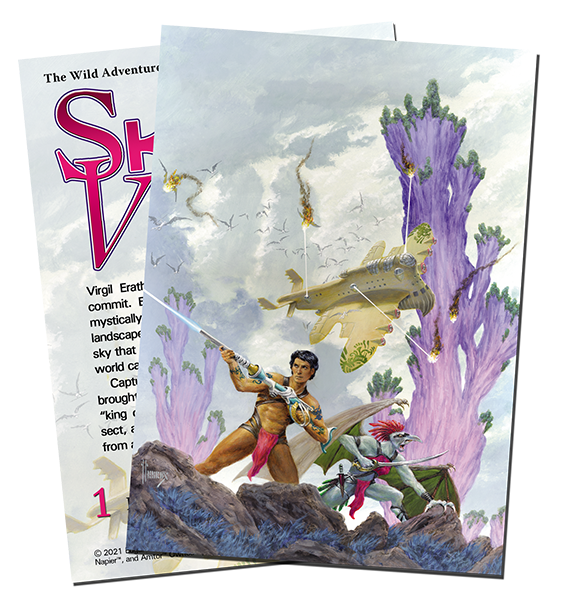 All preorders of the hardcover Collector's Edition of Skies of Venus placed directly from ERB, Inc.'s online store will come with an exclusive collectible trading card featuring the book's cover art by Richard Hescox.
The hardcover Collector's Edition is limited to only 200 copies and will feature a special bookplate signed by author Neal Romanek and ERB, Inc., President and Wild Adventures of ERB Series Editor James Sullos, along with a facsimile of Edgar Rice Burroughs' signature.
Get this special offer only by preordering Skies of Venus from our online store and selecting the option for the hardcover Collector's Edition.
About Neal Romanek (Author)
Neal Romanek is an American-British writer whose work includes film and TV, comics, and journalism. He is also one of the UK's top writers on media technology and speaks publicly on creativity and the media. He was born in Texas, educated at the USC School of Cinematic Arts, and now lives in London with his wife, daughter, and several spoiled animals. Skies of Venus is his first novel. The first grown-up book he ever read was Edgar Rice Burroughs' The Lost Continent.
About Richard Hescox (Cover Art)
Richard Hescox is one of the founding lights of the Imaginative Realism movement. He has contributed artwork to such projects as the films E.T. and The Dark Crystal, as well as computer games, record albums, and magazine illustrations. He has also provided cover art and interior illustrations for hundreds of books, including the limited edition of A Clash of Kings from the George R. R. Martin's bestselling Game of Thrones series. Richard previously painted the iconic cover art for all five books of Edgar Rice Burroughs' Carson of Venus series, as well as Tarzan and the Valley of Gold by Fritz Leiber.
About Douglas Klauba (Interior Illustrations)
An award-winning illustrator, Douglas Klauba was born and raised in Chicago, and is a graduate of the American Academy of Art. His paintings have been included in the art annuals of Spectrum: The Best in Contemporary Fantastic Art, the Society of Illustrators, and Imagine FX magazine. He was Artist Guest of Honor at the 2016 Burroughs Bibliophiles Dum-Dum convention, and he previously provided artwork for the books Tarzan Trilogy, Untamed Pellucidar, and Tarzan and the Valley of Gold published by Edgar Rice Burroughs, Inc.
About Edgar Rice Burroughs
The creator of the immortal characters Tarzan of the Apes and John Carter of Mars, Edgar Rice Burroughs is one of the world's most popular authors. His timeless tales of heroes and heroines transport readers from the jungles of Africa and the dead sea bottoms of Barsoom to the miles-high forests of Amtor and the savage inner world of Pellucidar, and even to alien civilizations Beyond the Farthest Star. Mr. Burroughs' books are estimated to have sold hundreds of millions of copies, and they have spawned 60 films and 250 television episodes.
Shipping Update
Lots of ERB goodness should be arriving in people's mailboxes this September, which is fitting as Edgar Rice Burroughs was born on September 1, one hundred and forty-six years ago today!
John Carter of Mars: Gods of the Forgotten—Now Shipping!
We're happy to inform you that the first batch of preorders for John Carter of Mars: Gods of the Forgotten is shipping from our warehouse this week. The books will be shipped out in the order that the preorders were received. We had extremely strong presales for the book, so we appreciate your patience as our small staff works hard to package each of your orders with care and get them out in a timely manner. When your order ships out, you will receive a shipping confirmation email with tracking information.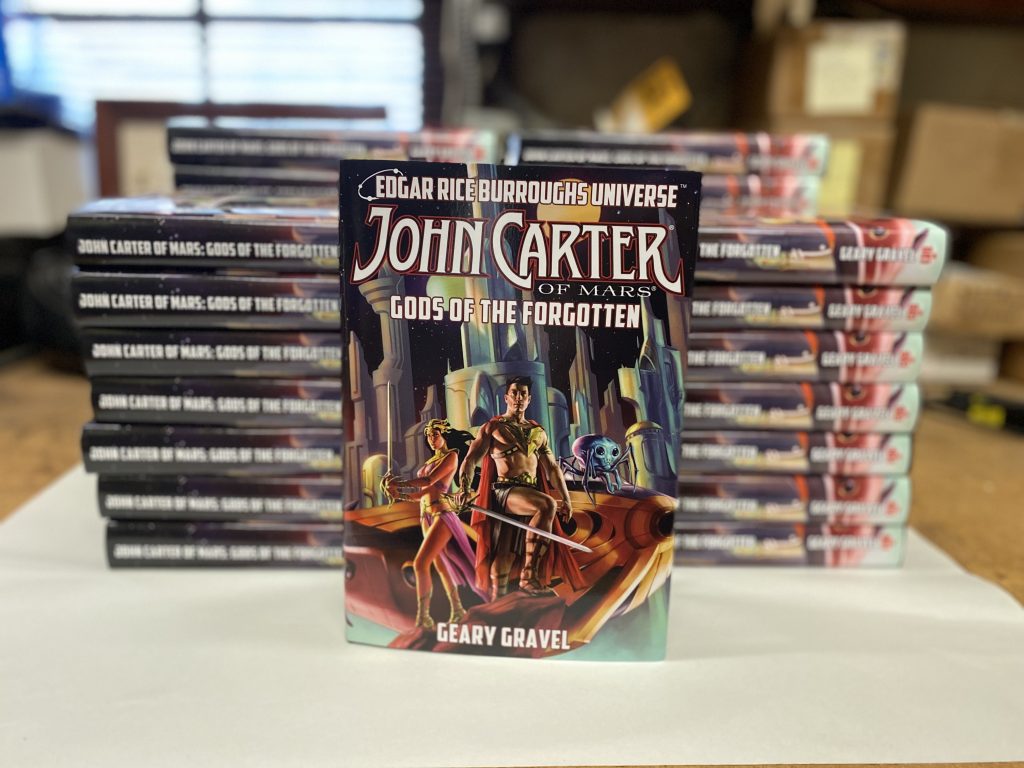 Beyond the Farthest Star: Restored Edition—Shipping Soon!
Preorders for Beyond the Farthest Star: Restored Edition should begin shipping shortly after we fulfill all existing preorders for John Carter of Mars: Gods of the Forgotten. We will send out a new email newsletter to keep you posted on when Beyond the Farthest Star begins to ship.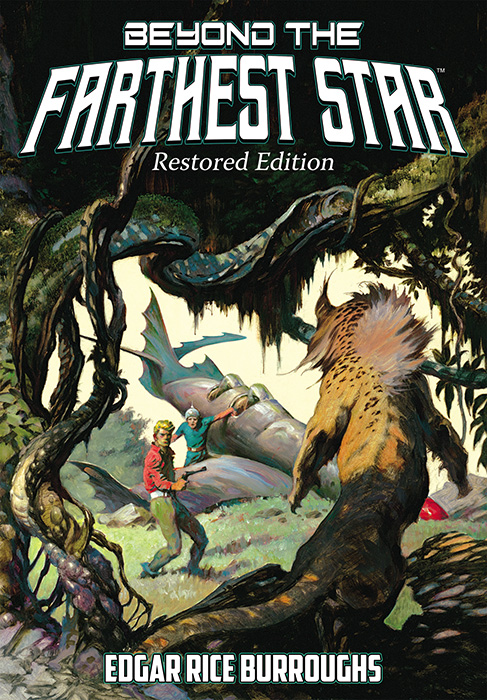 Sign Up for News Alerts
Stay tuned to EdgarRiceBurroughs.com and sign up for email updates to be among the first hear of future releases. Also be sure to follow Edgar Rice Burroughs, Inc., on Facebook, Twitter, and Instagram to keep up with the latest Edgar Rice Burroughs news, publications, and merchandise.
© Edgar Rice Burroughs, Inc. All Rights Reserved. Trademarks Edgar Rice Burroughs®, The Wild Adventures of Edgar Rice Burroughs™, Carson of Venus®, Carson Napier™, Duare™, Princess of Venus™, Amtor™, Tarzan®, Tarzan of the Apes™, John Carter®, John Carter of Mars®, Barsoom®, Pellucidar®, and Beyond the Farthest Star™ Owned by Edgar Rice Burroughs, Inc. Associated logos, characters, names, and the distinctive likenesses thereof are trademarks or registered trademarks of Edgar Rice Burroughs, Inc.