Exclusive Trading Card Offer
Only with Preorder from ERB, Inc.
Tarzana, California (June 22, 2021) –The groundbreaking Edgar Rice Burroughs Universe series continues with John Carter of Mars: Gods of the Forgotten by Geary Gravel—the third novel in the Swords of Eternity super-arc, a cycle of all-new canonical novels expanding Edgar Rice Burroughs' worlds of wonder and adventure! Preorders of the book are now available directly from ERB, Inc. Softcover and hardcover editions, as well as a limited Collector's Edition with a signed bookplate, will be available in a simultaneous release. The novel is expected to ship to customers Late Summer 2021.
Bonus Trading Card—While Supplies Last!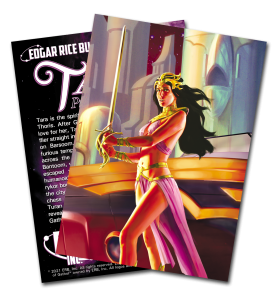 All preorders of John Carter of Mars: Gods of the Forgotten placed directly from ERB, Inc.'s online store will come with an exclusive collectible ERB Universe Tara, Princess of Gathol trading card. Collect all of the trading cards by preordering each ERB Universe novel directly from ERBurroughs.com!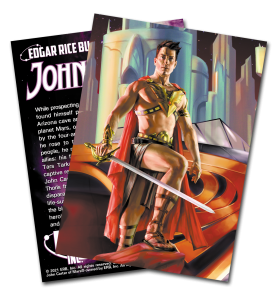 Hardcover Limited Collector's Edition
The hardcover Collector's Edition features a special ERB Universe bookplate signed by authors Geary Gravel and Ann Tonsor Zeddies, and includes a second exclusive ERB Universe trading card featuring John Carter of Mars (in addition to the Tara, Princess of Helium trading card). The Collector's Edition is limited to only 200 copies.


John Carter of Mars: Gods of the Forgotten
News of the passing of a dear friend spurs John Carter, Warlord of Mars, to investigate a series of perplexing mysteries in the forbidding icy northern reaches of Barsoom. The enigmas only deepen as he embarks upon a journey to the far-flung treasure city of Gathol with his spirited daughter Tara and an unexpected stowaway. Ensnared in an insidious conspiracy that reaches from his early years on the Red Planet back into the dim recesses of the ancient past, John Carter and his trusted longsword are now all that stand in the way of a dread menace that threatens the existence of all life on Barsoom.
Bonus Novelette: "Victory Harben: Stormwinds of Va-nah"
by Ann Tonsor Zeddies
Continuing her wayward journey upon the currents of spacetime, Victory Harben arrives in the strange hollow interior world of Va-nah from Edgar Rice Burroughs' classic The Moon Maid. Thrust into an uneasy alliance with a renegade Va-gas warrior and her young son, Victory must turn all her wits and skills toward survival—for she and her companions have been marked for death by the brutal the Kalkar soldiers under the reign of the vile tyrant Orthis.
About the Authors
Geary Gravel is the author of the Philip K. Dick Award finalist The Alchemists, as well as the novels The Pathfinders, A Key for the Nonesuch, and Return of the Breakneck Boys. He has also written several novelizations, including Hook, based on the Steven Spielberg film, and Batman: Mask of the Phantasm, based on the animated movie. He lives in western Massachusetts, where he worked for decades as a Sign Language Interpreter for the Deaf.
Ann Tonsor Zeddies first encountered the ERB Universe as a child, when an old professor who lived down the street allowed her to choose a volume from his shelves. She chose Tarzan of the Apes. Later, she read the adventures of John Carter aloud to her young son. She is the author of six science fiction novels, two of which were Philip K. Dick Award nominees. Her short fiction includes stories in The Ultimate Silver Surfer and Magic in the Mirrorstone. She lives in Michigan with her husband, near the shores of an inland sea.
About the Cover Artist
Chris Peuler is a genre illustrator based in Chicago, working primarily in fantasy and science fiction. A traditionally trained digital painter, Chris has created vivid imagery for various gaming and book publications. He has previously provided the cover art for Edgar Rice Burroughs, Inc.'s editions of Carson of Venus: The Edge of All Worlds by Matt Betts, Tarzan: Battle for Pellucidar by Win Scott Eckert, Swords Against the Moon Men by Christopher Paul Carey, and A Soldier of Poloda: Further Adventures Beyond the Farthest Star by Lee Strong.

Enter the Edgar Rice Burroughs Universe and join the adventure—order your copy of John Carter of Mars: Gods of the Forgotten today!
SIGN UP FOR ALERTS
Stay tuned to EdgarRiceBurroughs.com and sign up for email updates to be among the first hear of future releases in the series. Also be sure to follow Edgar Rice Burroughs, Inc., on Facebook, Twitter, and Instagram to keep up with the latest Edgar Rice Burroughs news, publications, and merchandise.


---
Copyright © Edgar Rice Burroughs, Inc. Trademarks Edgar Rice Burroughs®; Edgar Rice Burroughs Universe™; ERB Universe™; John Carter®; John Carter of Mars®; Dejah Thoris®; Tars Tarkas™; Carthoris™; Tara, Princess of Gathol™; Woola™; White Ape™; A Princess of Mars®; Gods of Mars®; Warlord of Mars®; Barsoom®; Tarzan®; Tarzan of the Apes™; Pellucidar®; Carson of Venus®; Jason Gridley™; Victory Harben™; Swords of Eternity™; Beyond the Farthest Star™; The Moon Maid™; and Va-nah™ owned by Edgar Rice Burroughs, Inc. Associated logos, characters, names, and distinctive likenesses thereof are trademarks or registered trademarks of Edgar Rice Burroughs, Inc.