NOW AVAILABLE IN BOTH SOFTCOVER AND HARDCOVER
VISIT OUR ERB ONLINE STORE

Tarzan on the Precipice
by Michael A Sanford
The second book in the series – The Wild Adventures of Edgar Rice Burroughs® with cover and interior art drawn by the creative, multi-award winning artist Will Meugniot 

THE MISSING LINK – At the conclusion of the classic TARZAN OF THE APES by Edgar Rice Burroughs, Tarzan is despondent but assured he did what was honorable by enabling Jane to leave with his cousin, William Clayton (who believes he is the rightful heir to the Greystoke estate and can appropriately provide for Jane when they marry). But what then? There has never been an explanation of Tarzan's activities after his presence in Wisconsin and before he begins his voyage back to Africa—until now!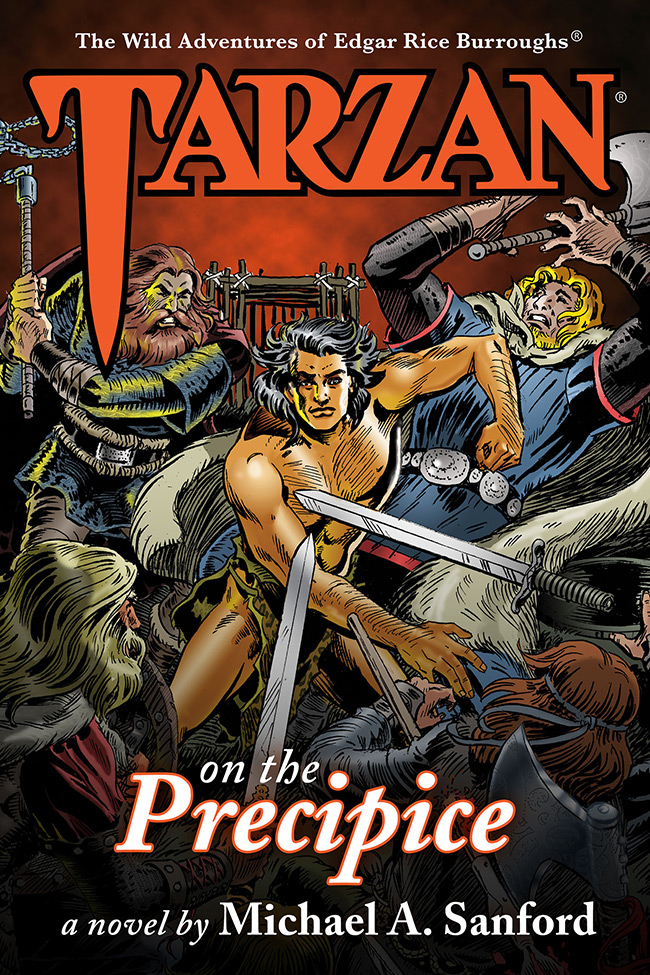 This story is full of fantasy, imaginative fiction and adventure – It grabs your attention from the beginning and keeps it to the very end. As Tarzan travels north, you will have visions of Canada that will make you feel as if you are there, touching and feeling all that Tarzan does. Thinking time and again that Tarzan's demise is imminent, he escapes only to encounter still more dangers, with each episode building more suspense and anticipation for the next. Tarzan's discovery of a lost Viking civilization and the author's description and explanation of it will bring you a clear picture of village life and the gruesome realities of their existence.

While you may think this is a novel of pure fiction, archaeologists are continuing to discover new Viking sites in North America. Just recently, satellite technology has revealed intriguing evidence of a second Norse settlement further south than ever before known. A new Canadian site was discovered after infrared images from 400 miles in space showed possible man-made impressions under layers of vegetation with telltale signs of iron working. And now you will have the opportunity, while joining Tarzan, to unearth and experience this new discovery.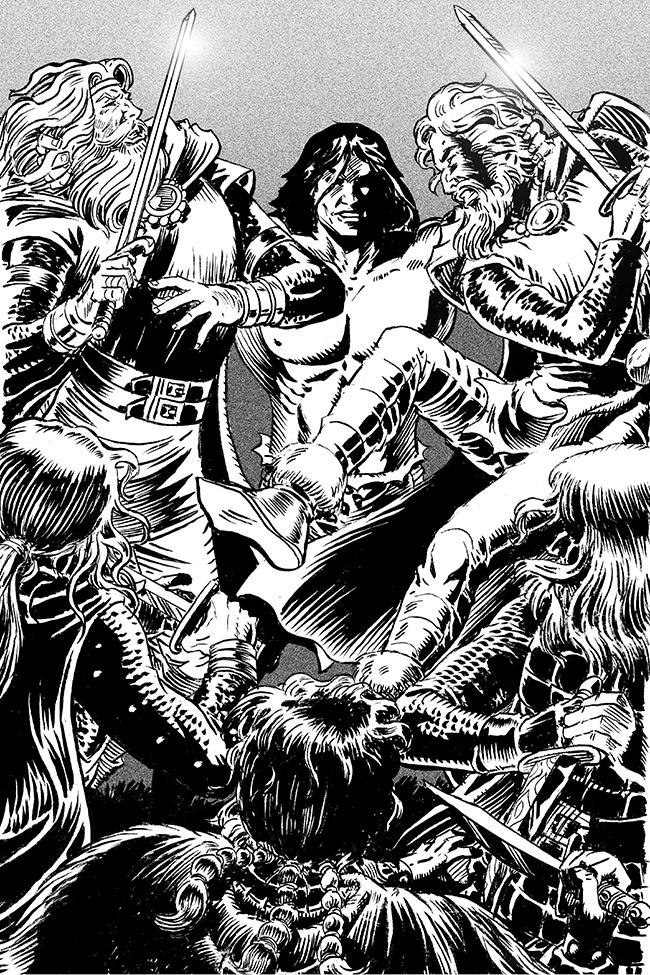 ORDER YOUR SOFT COVER NOW!
   
TARZAN ON THE PRECIPICE
Copyright © 2016 Edgar Rice Burroughs, Inc. All Rights Reserved
Tarzan of the Apes copyright © 1912 Edgar Rice Burroughs, Inc. All Rights Reserved
Trademarks TARZAN®, TARZAN OF THE APES™ AND
   EDGAR RICE BURROUGHS® owned by Edgar Rice Burroughs, Inc.
   and Used by Permission
First Edition—June 2016
Designed by Matthew Moring/Altus Press
---
Edgar Rice Burroughs – The Master of Adventure – TEE
See our store for all the Edgar Rice Burroughs® Comic Strip TEES  
Tees featuring your favorite Edgar Rice Burroughs character from Korak to John Carter of Mars to The Lad and the Lion to Carson of Venus and many more are available in our online store. Images are from our Comic Strip Subscription stories which are created by well known writers and artists. 
EdgarRiceBurroughs.com Store