Edgar Rice Burroughs, Inc. and Silver Fox Collectibles announce
Tarzan, Lord of the Jungle
Exclusive Offer: 24-inch tall Collectible Statue 
Edgar Rice Burroughs, Inc. and Silver Fox Collectibles are proud to announce the first in its "Tarzan, Lord of the Jungle" line, a 1:4 scale, 24-inch tall statue of Edgar Rice Burroughs' immortal jungle lord.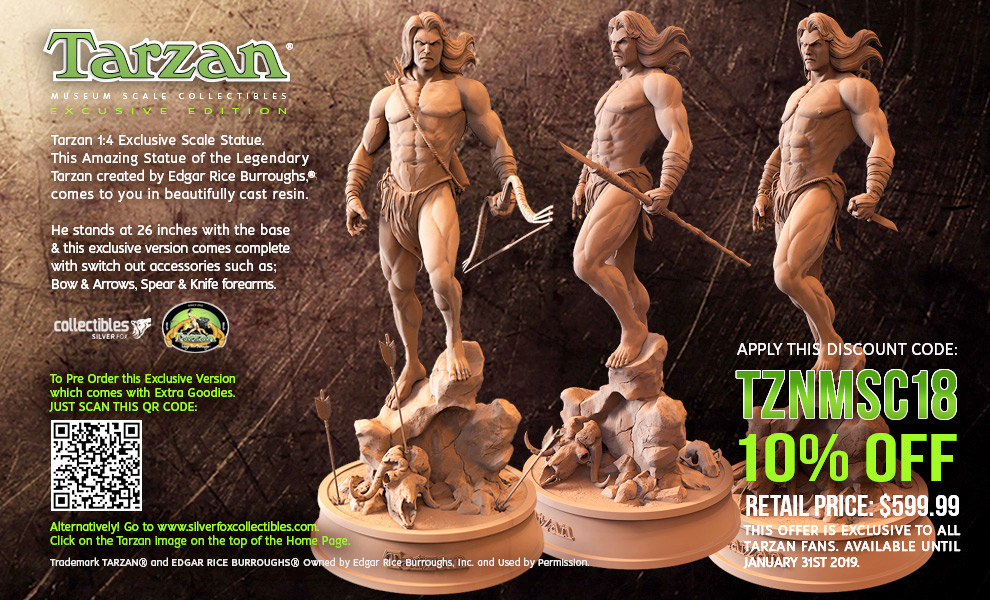 This Exclusive Version features three switch-out forearms, each with a different weapon: knife, bow and spear. Tarzan also comes equipped with a removable quiver and arrows.

The statue is made of hand-painted high-quality polystone resin, and is limited to 250 pieces worldwide.

Now through January 31, 2019, get 10% off the retail price of $599.99 by applying discount code TZNMSC18
Trademarks: Edgar Rice Burroughs®; Tarzan®; Lord of the Jungle™ – all owned by Edgar Rice Burroughs, Inc.
---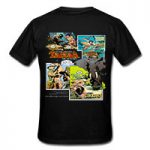 Tarzan T-Shirts
Tees featuring your favorite Edgar Rice Burroughs character from Tarzan® to Korak™ to John Carter of Mars® to The Lad and the Lion™ to Carson of Venus™ and many more are available in our online store. Images are from our Comic Strip Subscription stories which are created by well known writers and artists. See our ERB store for all the Edgar Rice Burroughs® Comic Strip TEES. Also you can visit our Amazon Store for additional items such as sweatshirts and new Tee designs. 
---
Best Regards,The Edgar Rice Burroughs, Inc. Team
James Sullos / President 
Cathy Wilbanks / VP-Ops
Tyler Wilbanks / Director of Publications
Tracy Griffin / Director of Special Projects
PO Box 570277 
| 
Tarzana CA 91357
 |
 818.344.0181
www.edgarriceburroughs.com