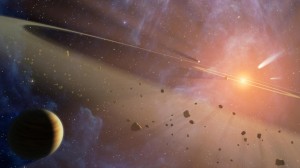 EDGAR RICE BURROUGHS WAS RIGHT ONE HUNDERED YEARS AGO!!
READ HIS PELLUCIDAR STORIES OF LIFE AT THE EARTH'S CORE!!
A team of astrobiologists has redefined conventional notions of where life can exist within a solar system. They've suggested that life could exist inside planets with inhospitable surfaces. Dubbed "subsurface habitable zones," this new definition of habitable zones means that alien life may be far more prevalent than we ever imagined.

Typically, a solar system's habitable zone, or so-called "Goldilocks zone," is a fairly narrow band within which planets can foster liquid water at the surface and cling to a stable atmosphere. For our solar system, this life-imbuing region of space extends from Venus to Mars.
Full Article: io9