Enter Africa 100,000 years ago and be surrounded by beasts of a primeval past that know only to kill to survive.
Nu the son of Nu, a savage from the Stone Age, is thrust forward to our age by a quirk in Time long enough to meet Victoria Custer of Nebraska and bring her back to his world of cave people, saber-tooth tigers, and a prehistoric wilderness. The challenges they face together, and the emotions that surface, explain why this story has also been known as THE ETERNAL LOVER.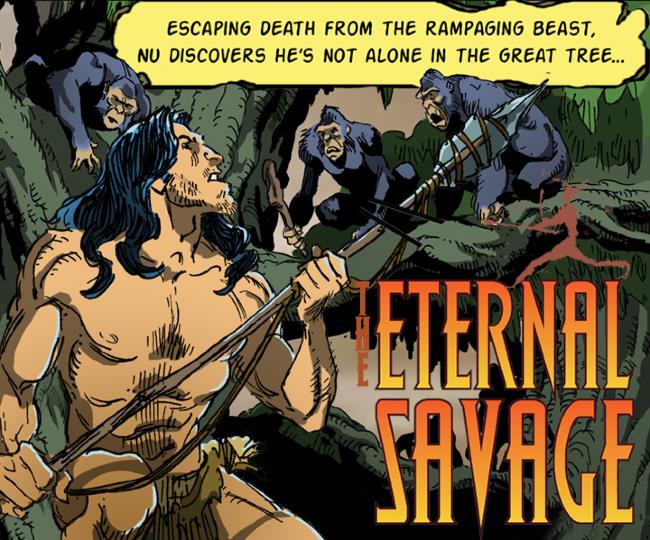 See the new strip…
Written by Martin Powell with art by Steve Gordon, this suspense-packed comic strip is FOR ALL AGES and FOR THE AGES.
Join the excitement. Start reading now at www.edgarriceburroughs.com/comics ! For just $1.99 per month you will have access not only to the upcoming Eternal Savage strips, but all current Tarzan strips by Tom Grindberg and Roy Thomas; the current Carson of Venus strips by Martin Powell, Tom Floyd and Diana Leto; and numerous Bonus Materials and sketches, as well as other fantastic strips such as The War Chief, coming soon!
Don't wait, Subscribe Today and watch for more announcements later in the month!
WRITER: MARTIN POWELL
Martin Powell, a professional writer since 1986, has written hundreds of stories in numerous genres for such Disney, Marvel, DC, and Sequential Pulp/Dark Horse Comics and others. Nominated for the prestigious Eisner Award for his work with Sherlock Holmes, he has written for some of the most popular characters in the industry, including Superman, Batman, Popeye the Sailor, Tarzan of the Apes. He is currently the author of the online weekly comic strips Carson of Venus and The Eternal Savage for Edgar Rice Burroughs, Inc. Martin has authored many children's books, and is co-creator of the acclaimed Halloween Legion, with illustrator Diana Leto. Martin's The Tall Tale of Paul Bunyan won the coveted Moonbeam Children's Book Award for Best Graphic Novel of 2010.
ARTIST: STEVEN GORDON
Steven E. Gordon, a professional artist for over 35 years, has worked mostly in Animation. His accomplishments include Character Designer and Supervising Animator on the Ralph Bakshi/Frank Frazetta feature film Fire and Ice, Character Designer and Director on X-Men: Evolution and The Ultimate Avengers, and as illustrator on many children's Superhero books for HarperCollins and other publishers. Steven has been professionally connected to Edgar Rice Burroughs as a storyboard artist on Disney's TARZAN television series and several direct-to-video sequels.