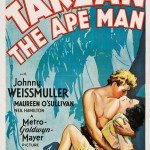 Sounds like someone got extremely lucky:
DALLAS—A trove of a 17 rare movie posters discovered under a linoleum floor in southern Pennsylvania may be worth more than $140,000 when they cross the block at public auction Nov. 21-22 in Dallas. The find holds lost pieces of Hollywood history – including five, never-before-seen posters such as Clark Gable's first starring role and the Style D one sheet for Tarzan The Ape Man, which is expected to sell for more than $40,000 at Heritage Auctions.
Read the full article right here!