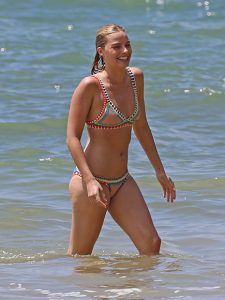 Our new Tarzan movie star!
Margot Robbie looked like she was enjoying the Hawaiian sun with boyfriend Tom Ackerley on Thursday. And in such a romantic destination, there was no shortage of PDA.

The Suicide Squad star and her beau of over a year were spotted swimming and kissing in the water together earlier this week. For her beach outing, Robbie, 26, chose a crochet-trimmed Kiini Luna bikini top and bottoms while Ackerley was dressed in navy and white patterned swim trunks.
Read the full article at Popular Magazine!