Life as a gentleman farmer in the once-wild West was hardly exciting enough for an adventurer and master swordsman like Barney Custer. So when he had the chance to make the long voyage to the land of Lutha, his mother's native land, he took it – and encountered more adventure in a few months than most people find in a lifetime.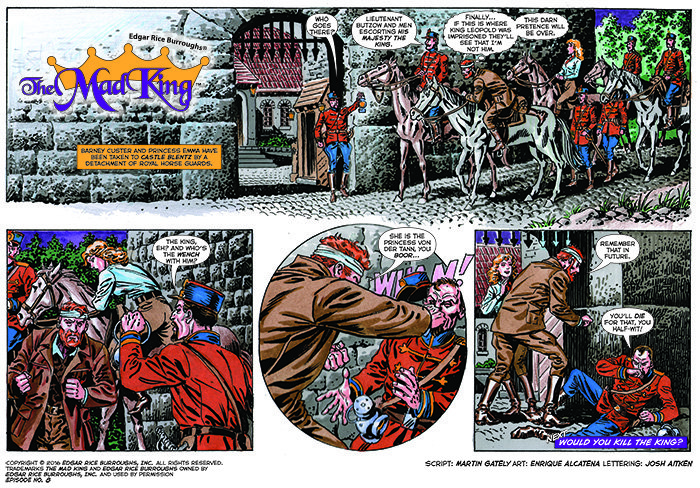 The Mad King is set in the fictional European kingdom of Lutha, where young Custer (the son of an American farmer and a runaway Luthan princess, Victoria Rubinroth) is unaware of his royal blood, much less that he is a dead ringer for his relative Leopold, the current king of Lutha. Barney arrives just as King Leopold escapeds his ten years' imprisonment at the hands of his scheming uncle, Prince Peter of Blentz. Much to Barney's, and everyone else's confusion, he is naturally mistaken for the king, leading to numerous complications.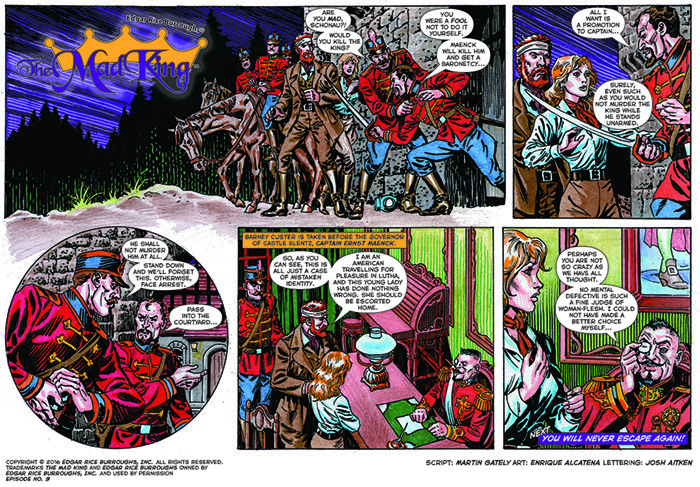 The fictional country of Lutha's location is, as Burroughs describes it, between Austria and Serbia. Lutha's circumstances mirror those of many Balkan nations forced to choose sides in the opening phase of the First World War.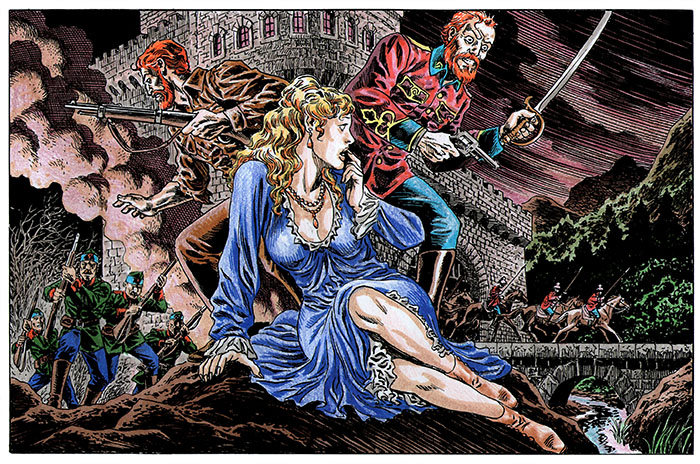 The Mad King: a crumbling kingdom, a black-hearted regent and his diabolical cohorts, a beautiful princess trapped in a dark and dismal dungeon, sinister plots and harrowing escapes – this is what Barney Custer found and this is what awaits the reader when he begins this tale of romantic adventure from the pen of master storyteller Edgar Rice Burroughs – compete with swordplay and intrigue, a beautiful princess in need of rescue, a courageous American hero, a throne in danger, evil conspirators, derring-do and narrow escapes. 
THE MAD KING TEAM
WRITER Martin Gately
Martin Gately commenced his writing career in the late 1980s working for DC Thomson on Starblazer – his first ever published story was illustrated by Enrique Alcatena. After a short stint as an editorial assistant, he left publishing behind to work in the British criminal justice system, at both the Serious Fraud Office and the Attorney General's Office.

Returning to writing in the last few years, he was reunited with Alcatena on the Phantom: Generationsstory Sherwood Jungle from Moonstone Books and also The Cryptid Kid comic strip for Fortean Times, to which he is a regular contributor of articles. Gately writes the continuing adventures of Gaston Leroux's detective character Rouletabille for the Tales of the Shadowmen series from Black Coat Press, as well as contributing to numerous other anthologies from this publisher.

Martin is also the author of the official short story prequel to Philip José Farmer's first novel (in The World's of Philip José Farmer Volume 4 from Meteor House). His most recent published work appears in the Mammoth Book of Jack the Ripper Stories (Mammoth Books). He is currently working on his first novel.
ARTIST Enrique Alcatena
A self-taught artist, Enrique 'Quique' Alcatena began his career in the 1970s as assistant of Chiche Medrano, working for Argentine publisher Ediciones Récord; his first signed work appeared in the magazine Pif Pif in 1976. In 1982 he started to work for the children's magazine Anteojito where his work was mostly surreal mythology filled fantasy. Starting from the late 1970s, Alcatena worked for British comics publisher DC Thomson on the boy's weekly comic Crunch and the legendary digest-sized science fiction/fantasy series Starblazer.

After drawing for DC Comics the Adventures of Superman annual (1987) and the miniseries Hawkworld (1989), he worked for other American comic publishers including Marvel and Dark Horse. Among several other titles, he illustrated issues of Batman: Legends of the Dark Knight, Adventures of Superman, Conan the Savage, Green Lantern, The Flash, and Predator vs. Judge Dredd vs. Aliens: Incubus and Other Stories.
LETTERER Josh Aitken
Josh Aitken has provided lettering, production and design services for a variety of publishers, including Image, IDW, Moonstone and Arcana. He has also assisted many independent writers and artists on projects that were released through Kickstarter, Comixology and Amazon. He worked with Zeros2Heroes Media as an assistant editor during their "Comic Creation Nation" campaign, and his first short story "Old Friends" was a bonus story in the Phantom Generations Collection published by Moonstone Books.

Josh is now an animation and FX technical director for Keyframe Digital Productions, working on children's and live action television projects, as well as feature films. He still likes to work on the odd comic project, and comics will always be a large part of his life.
Josh can usually be found living off a steady diet of Will Eisner and Moebius, watching reruns of Batman: The Animated Series, or working on the pitch bible for a cartoon series he is creating with his brother.
The Mad King – TEE
See our store for all the Edgar Rice Burroughs® Comic Strip TEES  
Tees featuring your favorite Edgar Rice Burroughs character from Tarzan® to Korak to John Carter of Mars to The Lad and the Lion to Carson of Venus and many more are available in our online store. Images are from our Comic Strip Subscription stories which are created by well known writers and artists. 
EdgarRiceBurroughs.com Store