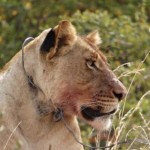 Sad news bit from Yahoo :
Anger about the recent poaching of Cecil the lion in Zimbabwe has yet to subside, as new developments surrounding the viral news story seem to arise almost every day.
But trophy hunters, such as Walter J. Palmer, the Minnesota dentist being sought by Zimbabwe authorities for shooting the iconic Cecil for his head as a memento, are only one problem facing African lions.
The photo atop this post shows a female lion in South Africa's Kruger National Park wearing a cable snare that's cutting into the flesh around her neck.
Read the full article Right Here! Photo: ©Judy Spangler Jones