Change is coming to the Jungle!
(May 8, 2015 – Tarzana, CA) As of episode #31 our Jungle Girl feature will be drawn by War Chief's own Nik Poliwko. Our current art team of Will and Jo Meugniot have decided to actively pursue their retirement and realized having a regular weekly assignment was interfering with their travel plans. Per Will, "Drawing Jungle Girl for the great people at ERB was a dream come true, but I've been concerned that I couldn't continue delivering the strip at its current quality and find time for the outside pursuits I've wanted to take up in retirement. It's been a relief that Nik, who is one of my favorite Burroughs artists, is willing to pick up the reins. As a fan of Martin's writing and Nik's visual storytelling, I look forward to seeing what comes next in the lives of Gordon and Fou-Tan, and trust you'll all join me in my enjoyment of the continuing adventures of Edgar Rice Burroughs' Jungle Girl."
They will be missed! We are excited to continue this wonderful story with Martin Powell, writing, and Nik Poliwko as our artist. Nik is the current artist for The War Chief and also the Editor or our special FB page for ERB web comics www.facebook.com/groups/ERB.Online.Strips/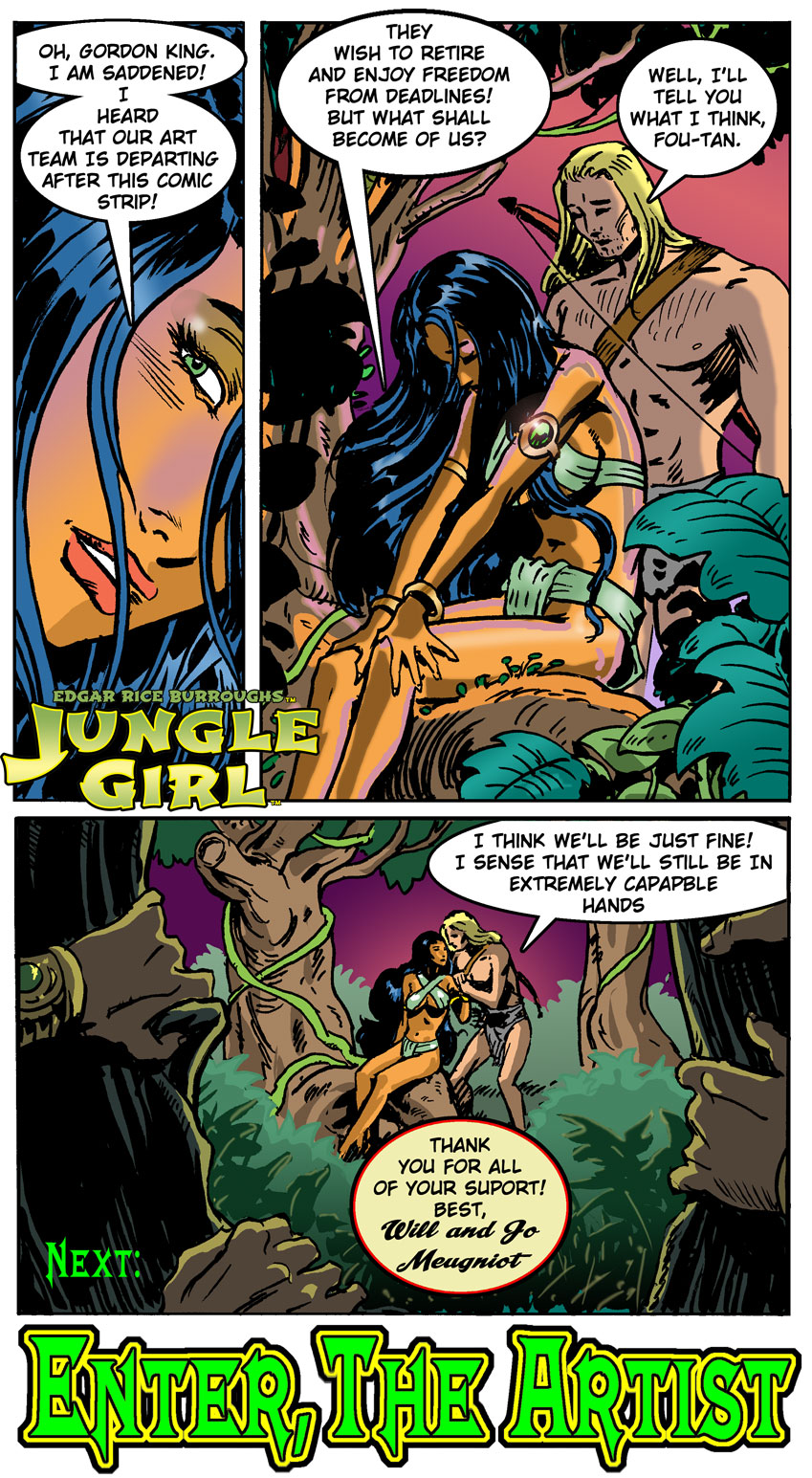 See all our Comic Strip Samples
The first four episodes of "The Jungle Girl," and all the comic strip storylines featured at EdgarRiceBurroughs.com/Comics, are available at no charge. Fans can gain unlimited access to the entire site and all the strips from the beginning for only $1.99 per month or $21.99 per year.
About the Edgar Rice Burroughs Digital Comic Strips Service
Regularly updated and expertly curated, the Edgar Rice Burroughs Digital Comic Strips service offers all new web comic adventures based on the classic characters and stories of Edgar Rice Burroughs. Current offerings include:
THE GIRL FROM HOLLYWOOD™ by Charles Santino and Joel Zain Rivers
THE OUTLAW OF TORN™ by Tom Simmons, Jake Bilbao and L Jamal Walton
JUNGLE GIRL™ by Martin Powell, Will Meugniot and Jo Meugniot
THE LOST CONTINENT™ by Martin Powell and Oscar Gonzalez
THE MONSTER MEN™ by Tom Simmons, Erik Roman, L Jamal Walton and Cristian Docolomansky
JOHN CARTER WARLORD OF MARS™ by Roy Thomas, Pegaso, Salvador López, Carolina Sánchez, Guadalupe Rivera and Olivia Peña
KORAK THE KILLER (TM) by Ron Marz, Rick Leonardi, Neeraj Menon and Troy Peteri
THE MUCKER (TM) by Ron Marz, Lee Moder, Troy Peteri and Neeraj Menon
TARZAN OF THE APES (TM) by Roy Thomas and Tom Grindberg
THE NEW ADVENTURES OF TARZAN (TM) by Roy Thomas and Tom Grindberg
CARSON OF VENUS (TM) by Martin Powell, Thomas Floyd, and Diana Leto
THE ETERNAL SAVAGE (TM) by Martin Powell and Steven E. Gordon
THE WAR CHIEF(TM) by Martin Powell and Nik Poliwko
THE CAVE GIRL (TM) by Martin Powell and Diana Leto (A Bi-Weekly)
PELLUCIDAR (TM) by Chuck Dixion and Tom Lyle
THE LAND THAT TIME FORGOT (TM) by Martin Powell, Pablo Marcos and Oscar Gonzalez