Enjoy this comic strip based on Edgar Rice Burroughs' murder mysteries
Edgar Rice Burroughs created a diverse set of dynamic characters when he moved to Southern California in 1919. One of the most colorful was Inspector Muldoon of the LAPD, who faced the daunting difficulty of solving murders before the advent of the technical wonders developed after World War II.
Mr. Burroughs was a frequent sidekick to Inspector Muldoon on his crime-solving challenges, giving the renowned author the opportunity to chronicle a unique series of murders that were mostly without clues. In such cases, Muldoon had no match. What follows are the mystifying murders and astonishing solutions that only Muldoon fully understood, presented in the narrative approach of the comic picto-fiction style of the 1950s.

See the first 4 strips of our entire lineup of Edgar Rice Burroughs Comic Adventures. FREE
INSPECTOR MULDOON TEAM
WRITER Charles Santino
Inspector Muldoon is Charles Santino's third web comic for Edgar Rice Burroughs, Inc., the first two being The Girl from Hollywood and The Girl from Farris's.
Santino is the co-author and co-creator of the Markosia comic book and graphic novel series Danny and Harry Private Detectives, with collaborator/artist Walter Brogan.
Santino has written and packaged comics and graphic novels for Marvel Comics, Penguin Books, Random House, Fantagraphics, and others.
Santino's credits include Conan the Barbarian, Louis L'Amour's The Law of the Desert Born, Savage Tales, Aesop's Fables, and Marvel's humor title What The—? He collaborated with novelist and screenplay author Malcolm McDowell (Beetlejuice) on the psychological horror novel Toplin, published by Dell/Abyss.
ARTIST, COLORIST, and LETTERER Karl Comendador
Karl Comendador is a well-known Filipino comic illustrator who won the Society of Philippine Illustrators and Cartoonists (SPIC) and San Miguel Corporation (SMC) Annual Arts Award in 1981. Comendador works as a regular comic illustrator in some well-established publications in the Philippines, and produced numerous graphic novels that gained huge followings. He is a protégé of Nestor Redondo, a Filipino illustrator who worked on the Swamp Thing series for DC comics. Comendador is also a writer/illustrator with a number of graphic novels published locally and well circulated in the Philippines, among them being Renegado and Dondo, both of the action genre.
Comendador is currently selling his art on eBay and works with ACP Comics.
Edgar Rice Burroughs T-Shirts
Insp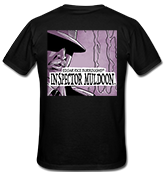 ector Muldoon t-shirt and other t-shirts from Edgar Rice Burroughs' stories can be found here. Other tees featuring your favorite Edgar Rice Burroughs characters, from Tarzan to Korak to John Carter of Mars to Carson of Venus and many more are available in our online store. Images are from our Comic Strip Subscription stories, which are created by well-known writers and artists. See our ERB store for all the Edgar Rice Burroughs Comic Strip t-shirts. You can also visit our Amazon Store for tees and additional items such as sweatshirts and new t-shirt designs. 
See the first 4 strips of our entire lineup of 24 Edgar Rice Burroughs Comic Adventures, FREE
Trademarks Inspector Muldoon™, The Girl from Hollywood™, The Girl from Farris's™, and Edgar Rice Burroughs® and others owned by Edgar Rice Burroughs, Inc.