Edgar Rice Burroughs® Presents
Edgar Rice Burroughs: 
The Bibliography
ERB Inc. publishes the "definitive bibliography" by Dr. Robert B. Zeuschner
Tarzana, California. Edgar Rice Burroughs Inc. today announced the release of the long-awaited definitive bibliography of the Master of Adventure by longtime Burroughs scholar Dr. Robert B. Zeuschner. The illustrated hardbound volume ships today in two hardbound editions.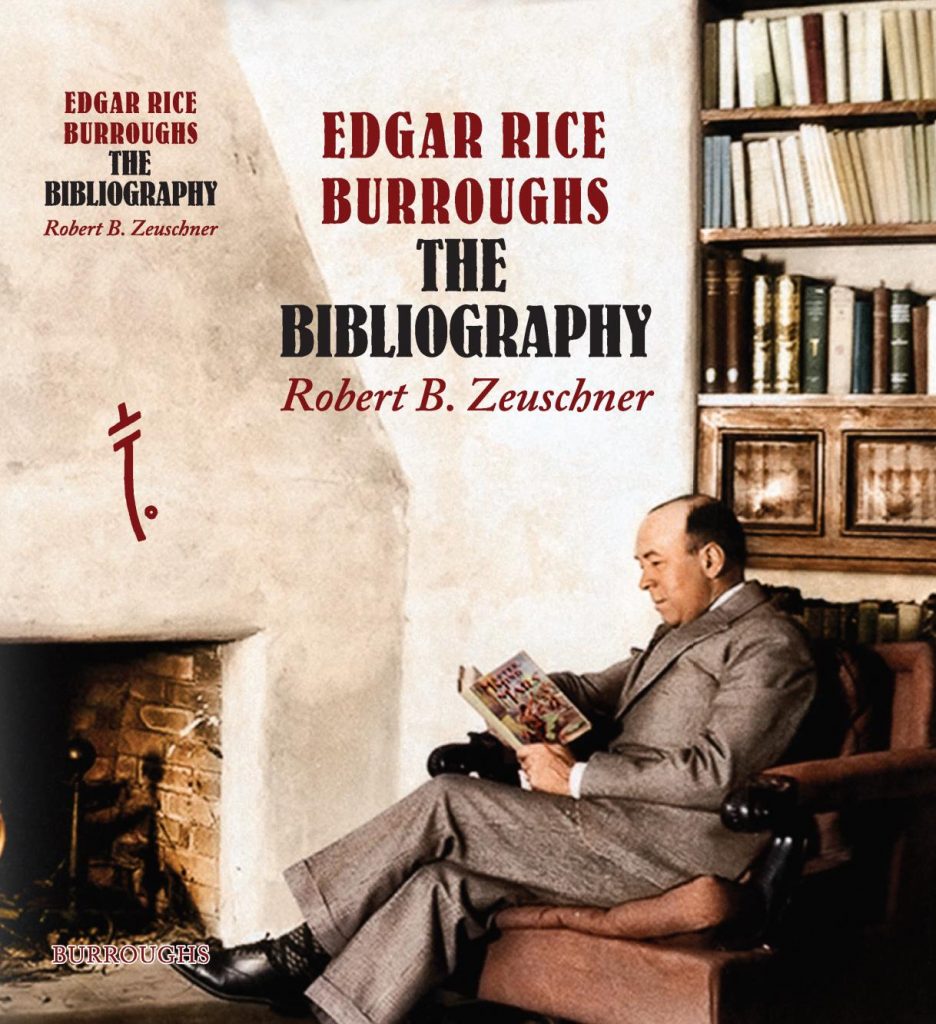 Edgar Rice Burroughs, well known for his tales of Tarzan and John Carter of Mars, has been rightfully dubbed The Master of Adventure, but few are aware of the full scope of Burroughs' literary output in a writing career that spanned four decades. During his lifetime, Burroughs created worlds that ranged from the Earth's core to the Farthest Star, inhabited by larger-than-life heroes and heroines, populated by unimaginable creatures and captivating landscapes. 
"We are absolutely thrilled to publish this very special book, which has been almost twenty years in the making," said Jim Sullos, President of Edgar Rice Burroughs, Inc. "We opened our archives to Dr. Zeuschner and he has produced the definitive account of everything published by Edgar Rice Burroughs. This is a one-of-a-kind illustrated bibliography that should be a must for anyone interested in ERB, the history of pulp fiction and the works that inspired Star Wars, Avatar, Superman and every other pulp hero since."  

The Bibliography features over 2000 annotated, illustrated entries describing ERB publications from 1911 to the present and 500 color images including 1st & reprint edition books & dustjackets, paperbacks and the 97 ERB story-related pulp covers. Both editions are 7 by 10 inch hardcover books.

Two editions are available in limited numbers: 
THE STANDARD EDITION: ISBN: 978-1-945462-00-9 $100 
First edition bound in midnight blue Cialux Italian book cloth with the spine and front cover decorations stamped in gilt. Color wrap-around dust jacket, 736 pages; 600+ images, 500 + in color on glossy stock. Limited to 900 copies See www.ERBurroughs.com 

THE DELUXE EDITION: ISBN: 978-1-945462-01-6 $150 
First edition bound in genuine red leather with a hub spine and cover decorations stamped in gilt. Limited to 375 signed (by the author, publisher, designer and John Ralston Burroughs, the grandson of ERB) and numbered copies. 736 pages; 600+ images, 500 + in color on glossy stock. Edgar Rice Burroughs: The Bibliography by Dr. Robert B. Zeuschner, will be released August 18th, 2016. Orders can be placed through the books website or by emailing the editor, Jim Gerlach. For more information, visitwww.erbbooks.com.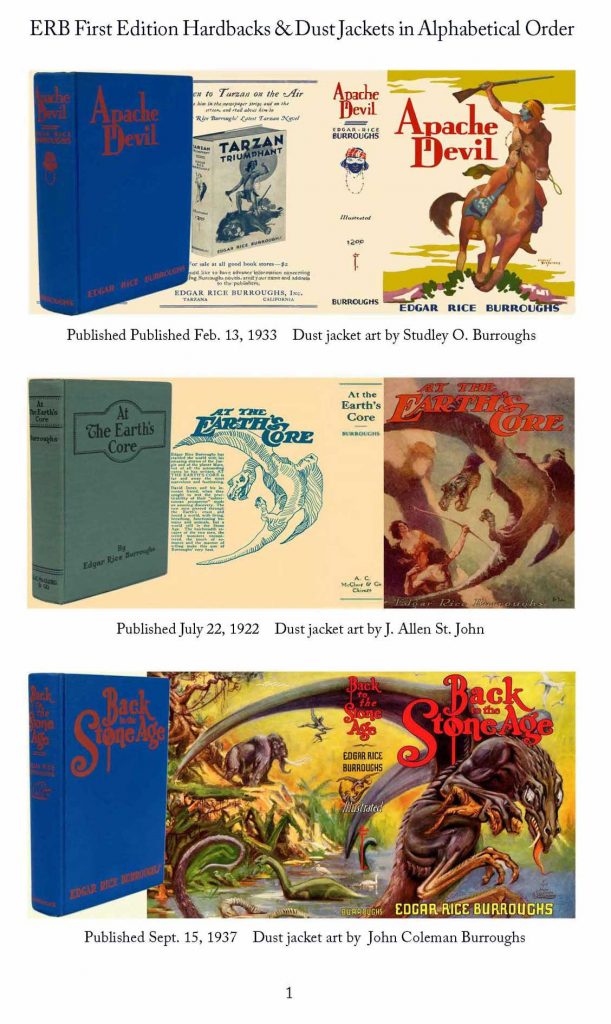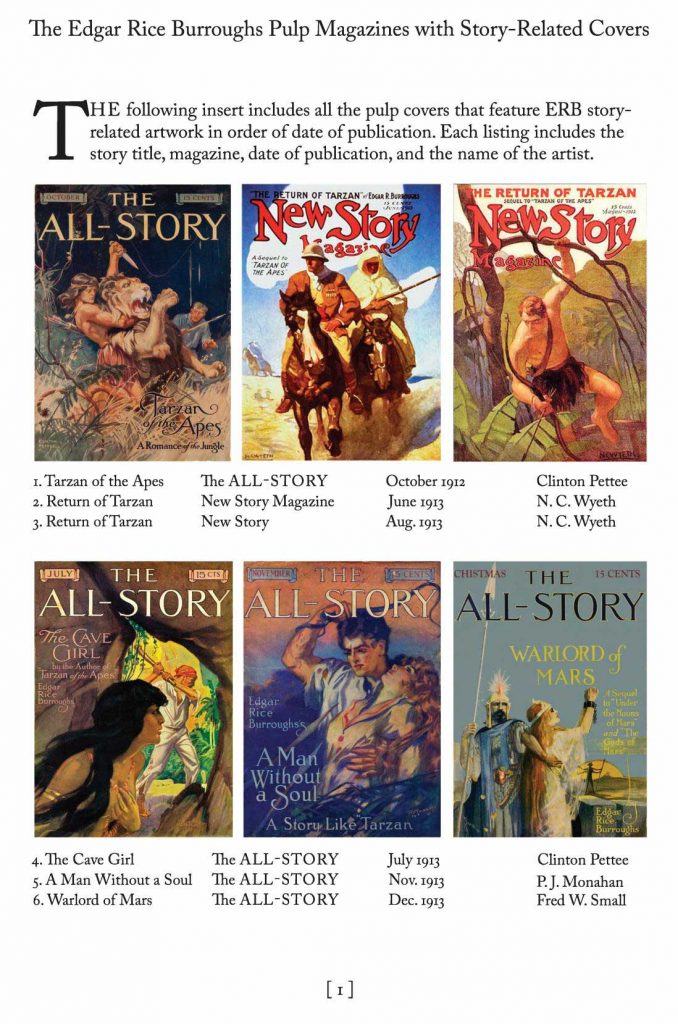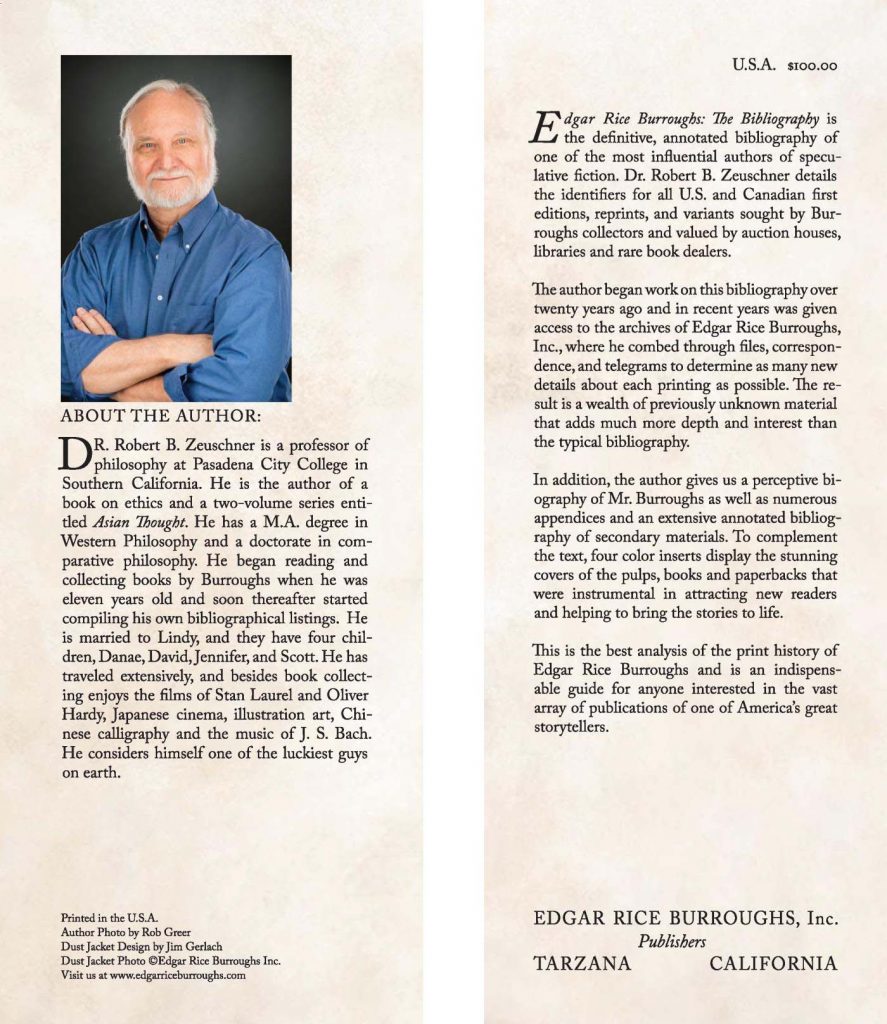 Contact Jim Gerlach
Edgar Rice Burroughs, Inc.
214 405-6741 (mobile)
www.ERBbooks.com
jtgerlach@verizon.net
Best Regards,
The Edgar Rice Burroughs, Inc. Team
James Sullos | President | Edgar Rice Burroughs, Inc.
PO Box 570277 | Tarzana CA 91357 | 818.344.0181