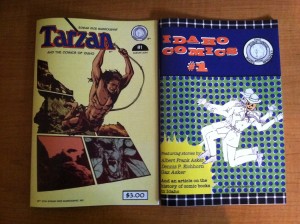 The Idaho Comics Group is a small, regional and independent comic book publisher located in Boise, Idaho. They are now officially licensing "Tarzan and the Comics of Idaho" series which you can purchase for just $3 (+ shipping/handling) by sending an email to idahocomicsgroup@yahoo.com. As their official blog explains:
Why did we license Tarzan for our comic book anthology? Edgar Rice Burroughs used to live in Idaho on three separate occasions in his life and first started writing notes for his Tarzan first draft here in the Gem State. You can read more about this in an article on the history of comic books in Idaho contained within the pages of Idaho Comics #1.
Check for more details on their Official blog on Tumbr!