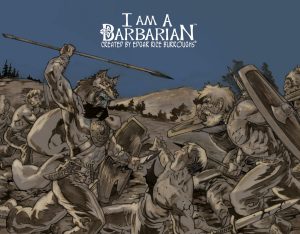 I AM A BARBARIAN™, the first print graphic novel collecting one of Edgar Rice Burroughs, Inc.'s extensive number of online comic strips, is now in stock and available at cedarrunpublications.com. Housed in a custom gold-foil-imprinted, matte-gray-board slipcase, this stunningly beautiful edition contains 236 pages of action-packed comic strips with a glossy interior cover. Only 600 copies were printed; thus the book will quickly become a sought-after collectible. Order now to secure your copy!
This deluxe slipcased graphic novel is available with a special laid-in bookplate limited to 250 copies and signed by the book's creative team (Thomas Simmons, Michael Dubisch, L. Jamal Walton) for $89.95 or without a bookplate for $69.95. Note: Orders for the I Am a Barbarian graphic novel with laid-in signed bookplate will be shipped the week of June 15th, 2022. For any questions about the book, please contact Cedar Run Publications.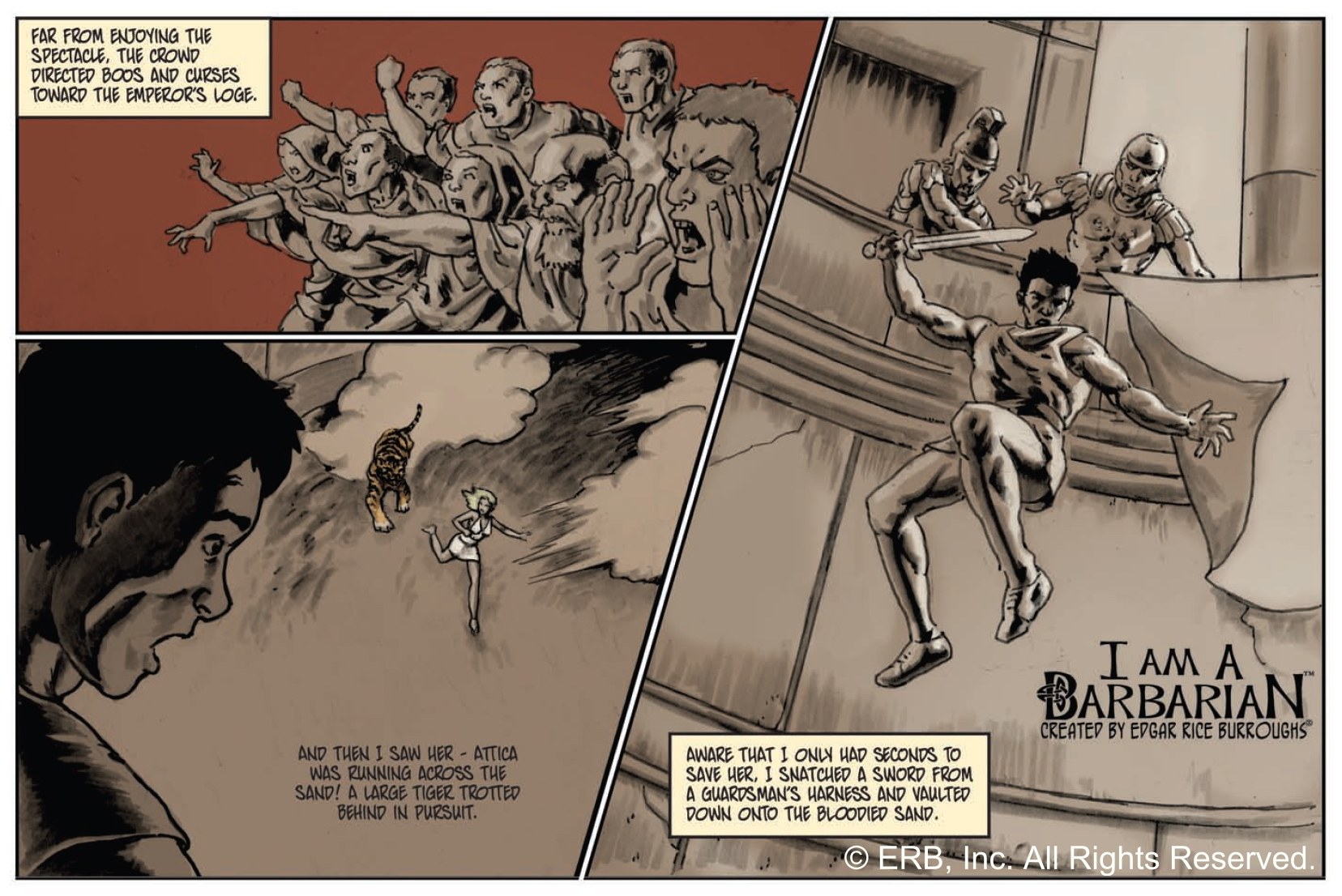 Advance reviews of the I Am a Barbarian deluxe graphic novel have been glowing. Look for upcoming write-ups and reviews in The Burroughs Bulletin, The Gridley Wave, The Panthans Journal, and The Anotar as well as webcasts and podcasts with writer/adapter Thomas Simmons and artist Mike Dubisch.
I Am A Barbarian, a historical novel set in ancient Rome, was written by "Master of Adventure" Edgar Rice Burroughs in 1941. It tells the story of a young man's courage in the face of cruel adversity, and of his tragic love for a beautiful Belgian slave girl.  
Britannicus, the defiant son of an arrogant chief in far-off Britain, was just another barbarian to the haughty Romans who captured and enslaved him. Britannicus' mother and father were also captured by the Romans, and he was never able to speak to them again. Britannicus becomes the personal slave of Emperor Caligula amid the decadence of Imperial Rome; he faces death time and again, in the gladiatorial arena, in chariot races, in the twisted hearts of palaces, always at the hands of his insane master: Caligula, the most bloodthirsty Roman of them all.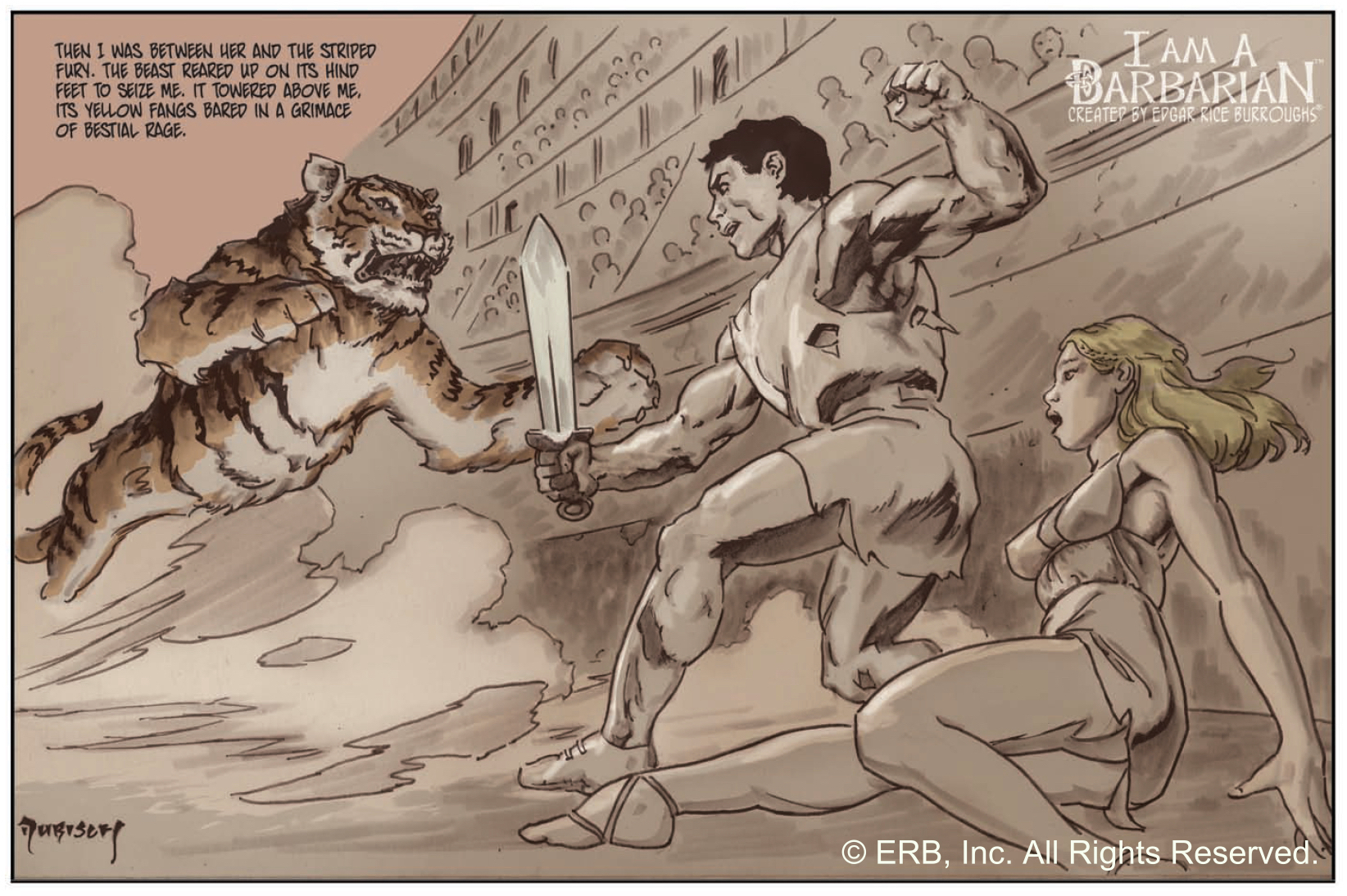 Britannicus watches as Caligula sinks into depravity, forces rivals to commit suicide, falsely accuses and kills individuals in order to seize their estates during a financial crisis caused by his own profligate gambling and wasteful spending, and orders his guards to throw scores of people into the arena to be eaten by wild animals. Only the imagination of Edgar Rice Burroughs could have reincarnated the chariot races, the intrigues, and the sights and sounds of long-dead Imperial Rome—and now, the able team of writer Tom Simmons, artist Mike Dubisch, and letterer Jamal Walton brings this extraordinary tale, with its vivid story, art, and period authenticity, to life again in a newly printed graphic novel based on their online comic strip.
Order your copy of the I AM A BARBARIAN deluxe graphic novel today!
WRITER/ADAPTER: Thomas Simmons
"In mid-1941, with mounting personal and health issues and the world once again at war, Edgar Rice Burroughs penned I Am a Barbarian, his second and final historical novel. The story is dark and in a number of ways decidedly unlike his prior work, which made adapting it into an action/adventure strip and subsequent printed graphic novel a challenge I was happy to undertake," says screenwriter and graphic novelist Tom Simmons.
In addition to adapting the I Am a Barbarian and The Outlaw of Torn™ online strips, Simmons has several screenplays and graphic novels to his credit. "It was a pleasure to have collaborated with Lovecraft Award–winning artist Mike Dubisch on this effort, as well as with the talented Jamal Walton. The satisfying culmination to our five-year commitment with the online strip is this excellent graphic novel," states the writer.
ARTIST/COLORIST: Mike Dubisch
Internationally known fantasy illustrator and graphic novelist Mike Dubisch has his roots in golden age horror comics and pulp science fiction. His art has been used in toy design and illustration for Star Wars, The Wheel of Time, and Dungeons & Dragons roleplaying games, covers for Aliens vs. Predator, and graphic adaptations of The Boxcar Children and other children's literature. His work has appeared in Science Fiction Age, Realms of Fantasy, Weird Tales, and H. P. Lovecraft's Magazine of Horror.
"I was huge reader of Burroughs at a young age, drawn to Tarzan's jungle adventures amongst the apes, a counterpoint to my obsession with King Kong and giant monsters. Later, John Carter's fantastic adventures enthralled me at the same time as I discovered the great illustrators and comic artists who ended up shaping my artistic vision," the artist says.
Dubisch is an instructor at the Academy of Art University in San Francisco. He also creates fine art, prints, and experimental films exploring H. P. Lovecraft's Cthulhu Mythos.
LETTERIST/DESIGNER: L. Jamal Walton
Jamal Walton is a web and graphic designer, illustrator, colorist, and letterer currently based in Durham, North Carolina. He has worked on projects big and small: Fist of Justice, Once Upon a Time Machine, Masters of the Universe, and Teenage Mutant Ninja Turtles, to name a few.
More recently, Jamal has focused more of his time working on his own comic creations: Warmageddon; Ungoodwise; and Captain Evil & Diabla. Jamal is always looking for opportunities to display his art at art exhibits and conventions, and to share his experience and skills in the craft of making comics via camps and workshops.
ABOUT EDGAR RICE BURROUGHS, INC.
From its headquarters in Tarzana, California, Edgar Rice Burroughs, Inc., administers the intellectual property of American author Edgar Rice Burroughs (1875–1950), one of the twentieth century's most prolific and enduring writers. Mr. Burroughs' 80+ novels and 40+ short stories have been adapted into 60 films and 250 television episodes, and are featured in comic books, video games, apparel, and other merchandise. Through worldwide ownership of copyrights and trademarks, Edgar Rice Burroughs, Inc., oversees authorized adaptations of his literary works in film, television, radio, publishing, theatrical stage productions, licensing, and merchandising. The company, which licenses the copyrights and trademarks of Mr. Burroughs' fictional heroes, including Tarzan of the Apes™, John Carter of Mars®, Carson of Venus®, and many more, is owned by his heirs and operates from offices the author built in 1927 on the site of his former Tarzana ranch in the San Fernando Valley.
© Edgar Rice Burroughs, Inc. All Rights Reserved. I Am a Barbarian™, Tarzan®, Tarzan of the Apes™, John Carter®, John Carter of Mars®, Carson of Venus®, The Outlaw of Torn™, and Edgar Rice Burroughs® Owned by Edgar Rice Burroughs, Inc. Used by Permission.