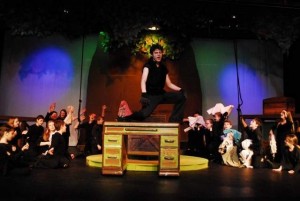 After a grueling three-hour rehearsal that included extensive singing and choreography for an upcoming production of "Tarzan," Christopher Roermose needed to unwind.

So Roermose, 17, did what his on-stage counterpart would do: He scaled a wall and climbed onto a piece of equipment nearly 10 feet off the ground and, with a buddy, began swinging like an ape.

Other cast and crew gathered around and counted aloud as Roermose and the other cast member — a gorilla in the show — attempted pull-ups while hanging high up in the air. He got to four before safely dismounting, much to the delight of director Dauphne Maloney.
Full Article: Mansfield News Journal