Developed from a story by Edgar Rice Burroughs The Master of Adventure
Hollywood was a prime destination for beautiful young women in the 1920s. These women arrived from out in the country and other cities. They came full of hope of becoming major stars in the newfound motion picture profession. But most were at risk of falling under the influence of agents who had many ways to control their destiny. Women who grew up in the Hollywood area had more solid roots but even they would yield, at their peril, to the promises made to them but never kept.
Edgar Rice Burroughs gives an early look into the subculture of Hollywood, with drugs directing human activity, that continues to this day. The New York Times described The Girl from Hollywood as "a fascinating cultural document about a California ranch family ruined by booze, dope and movieland promiscuity." During Prohibition, alcohol use was common, but distributors had to keep it hidden, hoping to not be discovered by the authorities. But hiding was next to impossible – so framing someone else for murder was one way to throw the authorities off your trail.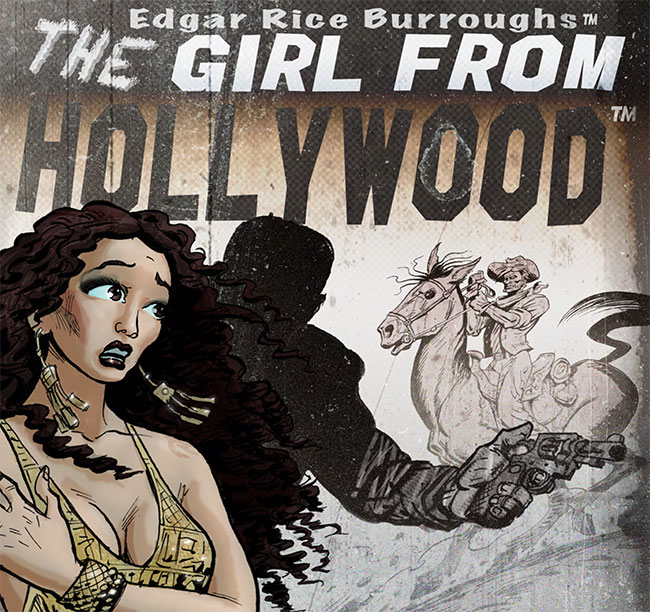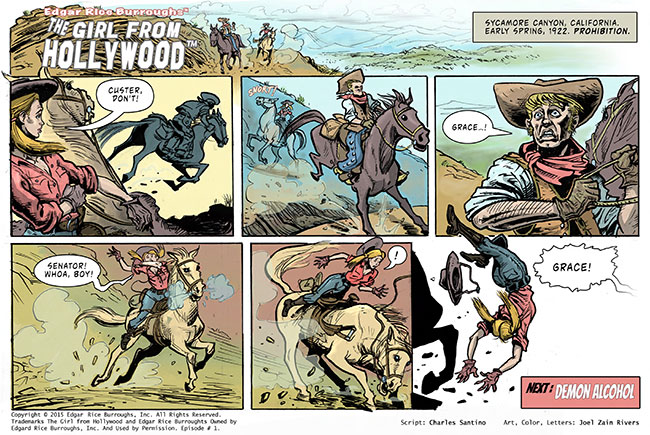 See the all our Comic Strip Samples
As with all the series featured at edgarriceburroughs.com/comics, the first four episodes of "The Girl From Hollywood" will be available at no charge. Fans can gain unlimited access to the entire site and all the strips from the beginning for only $1.99 per month or $21.99 per year.
About the Edgar Rice Burroughs Digital Comic Strips Service
Regularly updated and expertly curated, the Edgar Rice Burroughs Digital Comic Strips service offers all new web comic adventures based on the classic characters and stories of Edgar Rice Burroughs. Current offerings include:
THE GIRL FROM HOLLYWOOD™ by Charles Santino and Joel Zain Rivers
THE OUTLAW OF TORN™ by Tom Simmons, Jake Bilbao and L Jamal Walton
JUNGLE GIRL™ by Martin Powell, Will Meugniot and Jo Meugniot
THE LOST CONTINENT™ by Martin Powell and Oscar Gonzalez
THE MONSTER MEN™ by Tom Simmons, Erik Roman, L Jamal Walton and Cristian Docolomansky
JOHN CARTER WARLORD OF MARS™ by Roy Thomas, Pegaso, Salvador López, Carolina Sánchez, Guadalupe Rivera and Olivia Peña
KORAK THE KILLER (TM) by Ron Marz, Rick Leonardi, Neeraj Menon and Troy Peteri
THE MUCKER (TM) by Ron Marz, Lee Moder, Troy Peteri and Neeraj Menon
TARZAN OF THE APES (TM) by Roy Thomas and Tom Grindberg
THE NEW ADVENTURES OF TARZAN (TM) by Roy Thomas and Tom Grindberg
CARSON OF VENUS (TM) by Martin Powell, Thomas Floyd, and Diana Leto
THE ETERNAL SAVAGE (TM) by Martin Powell and Steven E. Gordon
THE WAR CHIEF(TM) by Martin Powell and Nik Poliwko
THE CAVE GIRL (TM) by Martin Powell and Diana Leto (A Bi-Weekly)
PELLUCIDAR (TM) by Chuck Dixion and Tom Lyle
THE LAND THAT TIME FORGOT (TM) by Martin Powell, Pablo Marcos and Oscar Gonzalez