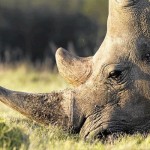 Another worthwhile story for the day:
On a stretch of land in Kenya, the last rhino for miles was killed 25 years ago.
Eastern black rhinos, murdered by poachers for their horns, have not set foot in the 100-square-mile native habitat since, and their numbers worldwide plummeted by 98 percent between 1960 and 1995 because of hunting and poaching.
But last week, that began to change.
Read the full article at Yahoo News