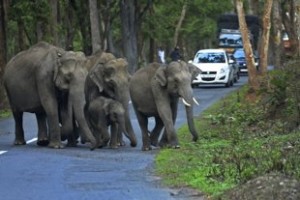 A herd of wild elephants near the Muthanga wild life sanctuary at Muthanga in Kerala state, India. (AP Photo)It's said that elephants never forget. Apparently it's especially true when a herd suffers a loss.
Last week near the village of Matari in eastern India, a train struck and killed an elephant — an accident that is unfortunately commonplace in that region.
The response by the herd is more surprising.
About 15 elephants appear to be mourning the loss of one of their own and have returned to the site of the incident, the Times of India said. The elephants have refused to move the last several days, causing train disruptions.
The elephants also appear to be grieving in a more destructive way: They've damaged surrounding houses and even demolished part of a schoolhouse.
Efforts to disperse the elephants using firecrackers have been unsuccessful. The elephants have persisted in their vigil.
"Elephants often try to return to the site of such accidents as they believe that their mate has only been injured and could be rescued by them," wildlife activist D S Srivastava told the Times of India. "Even when an elephant dies a natural death, their friends cover the body with bushes and small tree branches."
According to Srivastava, the herd's bond means the elephants will continue to try to return to place where their fellow herd member died, again and again.
Source: Yahoo! News. No Trademark infringement is intended.