All New "John Carter Warlord of Mars" Adventure Strip Just Launched – with a Spanish language option!
(June 14, 2014 – Tarzana, CA) Edgar Rice Burroughs, Inc., the company founded by the author to protect and maintain his original literary creations, announced today that Burroughs' first adventure hero – John Carter of Mars – will star in an all-new digital comic strip series to be penned by legendary comics scribe Roy Thomas and illustrated by renowned artist Rodolfo Pérez Garcia, better known to Mexican comics fans as Pegaso.
The new series, to be called "John Carter Warlord of Mars," debuts on June 14, joining other classic Burroughs creations like Tarzan, Korak the Killer, Carson of Venus and Pellucidar as part of the Edgar Rice Burroughs Digital Comic Strip Service.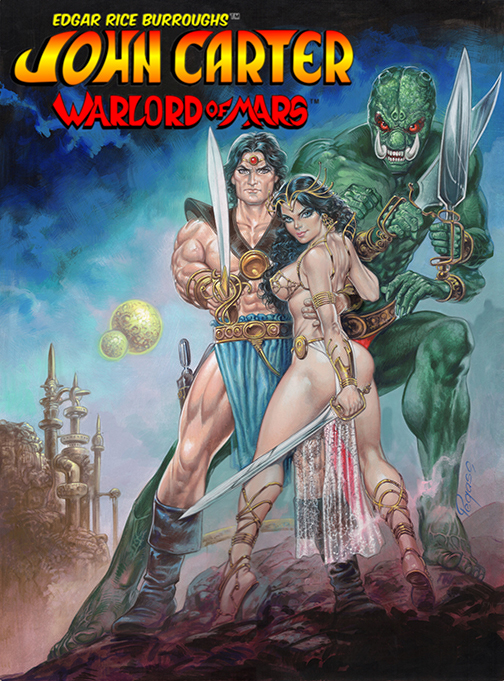 "I've been a fan of the writings and concepts of Edgar Rice Burroughs ever since I first discovered most of his works at the Jackson, Missouri public library when I was 8 or 10. Tarzan and John Carter of Mars were always my favorites. In later years, I realized how much both – and, to my mind, John Carter in particular – had contributed to the comic book super-heroes that became first my childhood passion, then – weirdly – my life's work," said author Roy Thomas. "I can't think of a better way to live out the rest of my life (and my family is generally rather long-lived) adapting and continuing the worlds of Edgar Rice Burroughs. And Pegaso is helping to bring it all alive!"
The character of John Carter has captivated audiences since 1912, when he debuted in Edgar Rice Burroughs' first novel, serialized as Under the Moons of Mars and later published as a complete novel, A Princess of Mars. Since then, his adventures have been chronicled in subsequent novels, a newspaper comic strip by the author's son, John Coleman Burroughs, and a variety of comic book series published over the years by Dell, Gold Key, DC Comics, Marvel, and Dark Horse. As many literary and cultural scholars attest, John Carter has served as a template for the litany of adventure heroes that followed, from Flash Gordon, Buck Rogers and Superman to the Jedi knights of Stars Wars and, more recently, Avatar.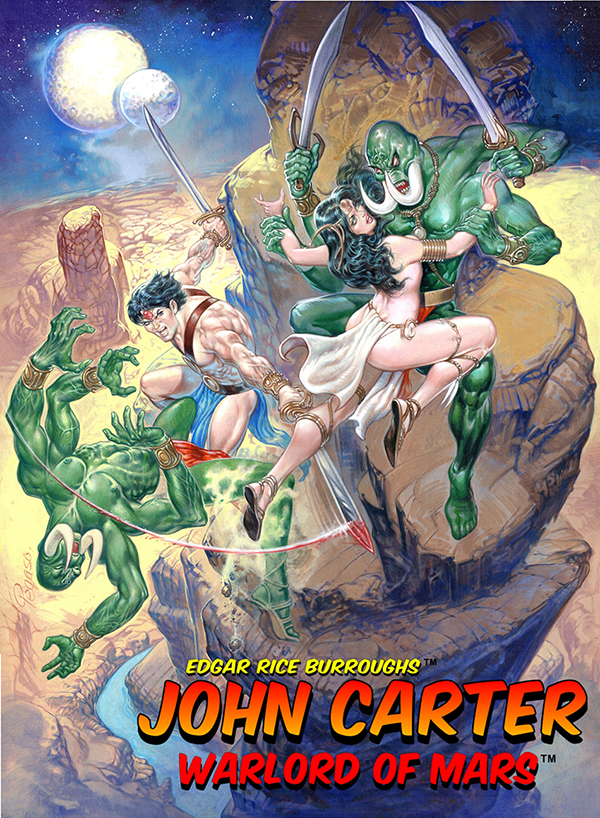 This digital initiative comes on the heels of the reacquisition by Edgar Rice Burroughs, Inc. of comic book and comic strip rights that had been held by Walt Disney Pictures and its Marvel Entertainment subsidiary. And the company is pleased to announce a brand new license with Dynamite Entertainment which will return the original "John Carter Warlord of Mars" to comic books! Dynamite will also republish other John Carter assets, going back as far as the early 1940s comic strips by John Coleman Burroughs, the son of Edgar Rice Burroughs.
"Over the years, the exploits of John Carter of Mars have been presented by a who's who of comic book greats, including Gil Kane, Marv Wolfman, Murphy Anderson, Joe Jusko, Carmine Infantino, Dave Cockrum, Rudy Nebres, Jesse Marsh, Gaylord Du Bois, Bruce Jones and Bret Blevins," said James Sullos, President of Edgar Rice Burroughs, Inc. "We're proud to be able to add Roy Thomas and Pegaso to this distinguished heritage and, like so many fans, we can't wait to see what adventures they have in store for us."
As with all the series featured at edgarriceburroughs.com/comics, the first four episodes of "John Carter Warlord of Mars" will be available at no charge. Fans can gain unlimited access to the entire site and all the strips from the beginning for only $1.99 per month or $21.99 per year.
About the Edgar Rice Burroughs Digital Comic Strips Service Regularly updated and expertly curated, the Edgar Rice Burroughs Digital Comic Strips service offers all new web comic adventures based on the classic characters and stories of Edgar Rice Burroughs. Current offerings include:
JOHN CARTER WARLORD OF MARS™ by Roy Thomas, Pegaso, Salvador López, Carolina Sánchez, Guadalupe Rivera and Olivia Peña
KORAK THE KILLER (TM) by Ron Marz, Rick Leonardi, Neeraj Menon and Troy Peteri
THE MUCKER (TM) by Ron Marz, Lee Moder, Troy Peteri and Neeraj Menon
TARZAN OF THE APES (TM) by Roy Thomas and Tom Grindberg
THE NEW ADVENTURES OF TARZAN (TM) by Roy Thomas and Tom Grindberg
CARSON OF VENUS (TM) by Martin Powell, Thomas Floyd, and Diana Leto
THE ETERNAL SAVAGE (TM) by Martin Powell and Steven E. Gordon
THE WAR CHIEF(TM) by Martin Powell and Nik Poliwko
THE CAVE GIRL (TM) by Martin Powell and Diana Leto (A Bi-Weekly)
PELLUCIDAR (TM) by Chuck Dixion and Tom Lyle
THE LAND THAT TIME FORGOT (TM) by Martin Powell, Pablo Marcos and Oscar Gonzalez