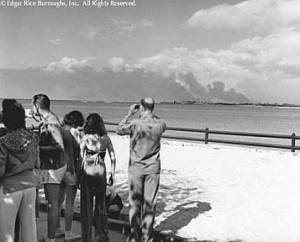 Our friends at ERBZine have posted an interesting letter from Edgar Rice Burroughs himself who witnessed the Pearl Harbor from the Honolulu island together with his son.
When we awoke Sunday morning, December 7th, we heard a great deal of firing, some of it very loud; but we hear a great deal of firing here and had been informed by the newspapers the day before that heavy guns would be fired from various parts of the island during the ensuing several days; so we thought nothing of it and went to breakfast.
Read the full letter Right Here!