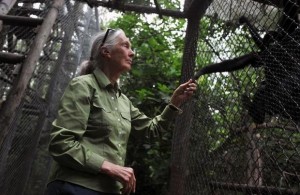 China is exploiting Africa's resources just like European colonisers did, with disastrous effects for the environment, acclaimed primatologist Jane Goodall has told AFP.

On the eve of her 80th birthday, the fiery British wildlife crusader is whizzing across the world giving a series of lectures on the threats to our planet.

And the rising world power's involvement on the continent especially raises alarms when it comes to her beloved chimpanzees and wildlife habitats.
Read more at Digital Journal