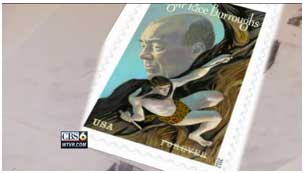 CHESTERFIELD, VA – Edgar Rice Burroughs, the author who created Tarzan and a host of other sci-fi heroes a century ago, didn't get much respect for what was considered pulp fiction at the time. Now, the work of a Chesterfield artist commemorating the prolific author is taking a licking literally.
A brand-new postage stamp showing Burroughs and Tarzan is set to take off around the world. It's the second U.S. Postal Service stamp drawn by Sterling Hundley, an artist, illustrator and Virginia Commonwealth University art professor. (His first was Oveta Culp Hobby, the first woman to hold a presidential cabinet position.)
"I kind of got a call out of the blue from Phil Jordan (art director from Falls Church, Va.), who said the postal service was trying to get some fresh blood in there, do something a little bit different," Hundley said. "It's a pretty big deal to have that happen. I was really excited to get the job."
Burroughs, born in 1875, was a father of fantasy adventure. He eventually made a fortune on heroic, sometimes violent, almost superhuman characters who were always saving the girl, but never taking advantage of her.
Early on in his life, Burroughs himself was quite the opposite of the powerful figures he later created. His own notes of his younger years say things like, "I am a flop." When he gave up his meager job to write full time, he noted: "Everyone thinks I'm crazy, including myself."
In literary circles at the time, Burroughs was considered "low-lit," a pulp writer for comic-like magazines. When his Tarzan character exploded on the scene a century ago, critics laughed when he decided to spin it into comics, and later, cartoons and movies.
Burroughs was a true multimedia pioneer starting 100 years ago. (Burrough's John Carter of Mars character is currently being made into a movie.)
"He was just savvy and aware enough to realize he needed multiple revenue streams," Hundley said. "At that point, it's not so much what people think, as what you need to do to pursue your art form."
Hundley, like Burroughs, believes in expressing himself in many different ways, in finding your artistic voice and marketing it, too. He's working on his paintings and graphic novels; his illustrations are seen in national magazines. Beyond his teaching at VCU, he's one of the directors of a national online art school.
As he tells students and struggling artists, "you've got to put yourself in situations where you're surrounded by other people who are doing what you want you to do," Hundley said. "I think that most artists fail in business, not the art side. We see tons of talented people coming through, it's just figuring out that business is a problem to solve, just like creating a piece of artwork."
While few at the time considered Burroughs a literary artist, he certainly solved the business problem. And time has improved his status as an author, although his writings depicting race and sexual roles are still critiqued.
Still, Burroughs wrote about heroic African warriors, as well as independent warrior women, almost 100 years ago. His grasp of the science behind his fiction was also fairly impressive for its time.