Exclusive Trading Card Offer
Only when Ordered from ERB, Inc.
Tarzana, Calif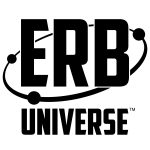 ornia (April 21, 2020) – The long wait is over—Carson of Venus: The Edge of All Worlds by Matt Betts is now available and shipping to customers! Fans the world over have been eagerly awaiting this exciting first chapter in the saga of the ERB Universe, the groundbreaking series of all-new canonical novels expanding Edgar Rice Burroughs' worlds of wonder and adventure. For the first time ever, our softcover and hardcover editions, as well as a limited Collector's Edition with a signed bookplate, are available in a simultaneous release.
Bonus Trading Card Offer—While Supplies Last!
All orders of Carson of Venus: The Edge of All Worlds placed directly from ERB, Inc.'s online store will come with an exclusive collectible ERB Universe Victory Harben trading card! Collect all of the trading cards by preordering each ERB Universe novel directly from ERBurroughs.com!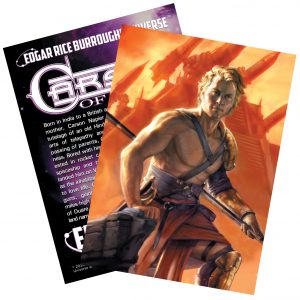 The hardcover Collector's Edition features a special ERB Universe bookplate signed by authors Matt Betts and Christopher Paul Carey, and includes a second exclusive ERB Universe trading card featuring Carson of Venus. The Collector's Edition is limited to only 200 copies and has been selling fast, so pick up a copy while you still can.
Carson of Venus Returns in The Edge of All Worlds!
When a mysterious enemy attacks his adopted nation of Korva, Earthman Carson Napier discovers his own arrival on Venus years ago may have unknowingly triggered the strike. The invaders' trail of death and destruction leads Carson and his beloved princess Duare headlong into battle against a seemingly invincible, primordial race. But that is not Carson's only challenge, for an uncanny phenomenon has entangled him with two strange individuals from beyond spacetime. Will Carson be able to solve the mysteries of his past and the enigmatic visitors before the entire planet descends into chaos?
Bonus Novelette: "Pellucidar: Dark of the Sun"
by Christopher Paul Carey
At the end of Carson of Venus: The Edge of All Worlds, readers will find a special treat—an all-new novelette featuring Jason Gridley and introducing the Edgar Rice Burroughs Universe's newest heroine, Victory Harben!
When the very principle of physics behind the Gridley Wave mysteriously fails, cutting off all communication between the hollow world of Pellucidar and the outer crust, inventor Jason Gridley seeks help from his brilliant young protégé, Victory Harben. Together they recover timeworn records from deep in the ruins of a dead Mahar city, hoping to use knowledge of Pellucidar's former reptilian overlords to jumpstart the Gridley Wave. But when their experiment goes terribly wrong, Jason and Victory suddenly find themselves drawn into the inscrutable machinations of an ancient evil.
Enter the Edgar Rice Burroughs Universe and join the adventure—order your copy of Carson of Venus: The Edge of All Worlds today!
Like/Follow the Official ERB Universe Facebook page
Copyright © Edgar Rice Burroughs, Inc. Trademarks Edgar Rice Burroughs®, Edgar Rice Burroughs Universe™, ERB Universe™, Carson of Venus®, Carson Napier™, Amtor™, Pellucidar®, Jason Gridley™, Victory Harben™, and Swords of Eternity™ owned by Edgar Rice Burroughs, Inc. All associated logos, characters, names, and distinctive likenesses thereof are trademarks or registered trademarks of Edgar Rice Burroughs, Inc.