Plus a Special Kindle eBook offer!
Tarzana, Calif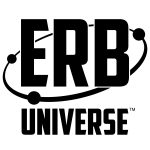 ornia (May 5, 2020) – For the first time ever, the fantastic worlds and heroes of the Master of Adventure are coming to audio in the Complete Edgar Rice Burroughs Collection from Oasis Audio! The ERB audiobook catalog from Oasis launches with the release of the thrilling new Edgar Rice Burroughs Universe novel Carson of Venus: The Edge of All Worlds by Matt Betts—available now in an Audible edition from both Amazon and Audible.com!
The new Oasis Audio edition of Carson of Venus: The Edge of All Worlds is narrated by award-winning storyteller John McClain. "The team at Oasis Audio has delivered a top-notch production that I'm confident will thrill Edgar Rice Burroughs fans everywhere," says ERB, Inc., Director of Publishing Christopher Paul Carey. "John McClain has truly brought Carson Napier to life with his standout performance, which transports the listener directly to a world of adventure on the strange and fantastic planet of Amtor."
In the coming months, Oasis Audio will continue to expand the collection with audiobook editions of the upcoming novels in the Edgar Rice Burroughs Universe series, as well as audiobooks for the Edgar Rice Burroughs Authorized Library and the Wild Adventures of Edgar Rice Burroughs series.
Buy the Kindle Ebook at Amazon and Get the Audible Edition for Only $7.49!
The Kindle ebook edition of Carson of Venus: The Edge of All Worlds is now available for instant download, and Amazon.com is currently featuring a very special offer—if you purchase the Kindle edition, you can add the Audible book to your purchase for just $7.49! Simply click the check box directly under the "Buy now with 1-Click" button to add the Audible edition of Carson of Venus: The Edge of All Worlds to your purchase of the Kindle ebook.
Carson Napier Returns in Carson of Venus: The Edge of All Worlds!
When a mysterious enemy attacks his adopted nation of Korva, Earthman Carson Napier discovers his own arrival on Venus years ago may have unknowingly triggered the strike. The invaders' trail of death and destruction leads Carson and his beloved princess Duare headlong into battle against a seemingly invincible, primordial race. But that is not Carson's only challenge, for an uncanny phenomenon has entangled him with two strange individuals from beyond spacetime. Will Carson be able to solve the mysteries of his past and the enigmatic visitors before the entire planet descends into chaos?
Bonus Novelette: "Pellucidar: Dark of the Sun" by Christopher Paul Carey
At the end of Carson of Venus: The Edge of All Worlds, readers will find a special treat—an all-new novelette featuring Jason Gridley and introducing the Edgar Rice Burroughs Universe's newest heroine, Victory Harben!
When the very principle of physics behind the Gridley Wave mysteriously fails, cutting off all communication between the hollow world of Pellucidar and the outer crust, inventor Jason Gridley seeks help from his brilliant young protégé, Victory Harben. Together they recover timeworn records from deep in the ruins of a dead Mahar city, hoping to use knowledge of Pellucidar's former reptilian overlords to jumpstart the Gridley Wave. But when their experiment goes terribly wrong, Jason and Victory suddenly find themselves drawn into the inscrutable machinations of an ancient evil.
About the Audiobook Narrator
John McLain is an award-winning storyteller with over 225 audiobook title credits. He delights in narrating across many genres: detective noir, suspense and thrillers, westerns, nonfiction, biography, and more. John is a SOVAS Voice Arts Award winner, a two-time nominee for the prestigious Audie Award, and a winner of the Audiobook Reviewer Listeners' Choice Award.
About Oasis Family Media
Oasis Family Media houses Oasis Audio, a leading publisher of inspirational and family-friendly audiobooks for adults and children. The Oasis catalog includes more than 1,200 titles, adding 175 new audiobooks annually—from popular children's series to romance and suspense fiction to business and self-help titles. To learn more, visit oasisaudio.com.
About Edgar Rice Burroughs, Inc.
From its headquarters in Tarzana, California, Edgar Rice Burroughs, Inc., administers the intellectual property of American author Edgar Rice Burroughs (1875–1950), one of the twentieth century's most prolific and enduring writers. Mr. Burroughs' 80+ novels and 40+ short stories have been adapted into 60 films and 250 television episodes, and are featured in comic books, video games, apparel, and other merchandise. Through worldwide ownership of copyrights and trademarks, Edgar Rice Burroughs, Inc., oversees authorized adaptations of his literary works in film, television, radio, publishing, and theatrical stage productions. The company, which licenses the copyrights and trademarks of Mr. Burroughs' fictional heroes, including Tarzan®, John Carter of Mars®, Carson of Venus®, and many more, is owned by his heirs and operates from offices the author built in 1927 on the site of his former Tarzana ranch in the San Fernando Valley.
Copyright © Edgar Rice Burroughs, Inc. Trademarks Edgar Rice Burroughs®, Edgar Rice Burroughs Universe™, ERB Universe™, Tarzan®, John Carter®, John Carter of Mars®, Carson of Venus®, Carson Napier™, Amtor™, Pellucidar®, Jason Gridley™, Victory Harben™, Swords of Eternity™ and others owned by Edgar Rice Burroughs, Inc. All associated logos, characters, names, and distinctive likenesses thereof are trademarks or registered trademarks of Edgar Rice Burroughs, Inc.