Join Tarzan as he swings into the jungle of audio comedy in The Adventures of Tarzan® presented by Freshly Squeezed Pulp!
Here is their official announcement:
Freshly Squeezed Pulp (FSP) is proud to announce the rerelease of their 2018–2021 audio drama The Adventures of Tarzan®, which has now been licensed through Edgar Rice Burroughs, Inc.! Brought to you by FSP and ERB, Inc., The Adventures of Tarzan seeks to share the adventurous world of the original Tarzan novels for modern audiences in the style of old-time radio serials through the lens of comedy podcasting. Join us and this new take on these original classics by tuning into Episode 1, out now and available on major podcasting outlets. Click HERE to listen on your preferred platform, subscribe, follow, and learn more about The Adventures of Tarzan!
Check out the series trailer below or by clicking HERE
Following in the footsteps of Edgar Rice Burroughs' original Tarzan® novels, this Freshly Squeezed Pulp Program seeks to both retell and modernize the wacky exploits of world-renowned pulp hero Tarzan of the Apes® through a mix of comedy and classic drama. Born to castaways on the western coast of equatorial Africa, a young Earl of Greystoke is brought up by a family of intelligent apes. When a band of tag-along explorers are also marooned on the same beach, Tarzan comes to meet other humans for the first time, and learn more about the life in Europe his family tragically left behind. Here, Tarzan meets a young Jane Porter, and the two start a wacky family of friends and redemptive foes alike. As Tarzan's absurd adventures continue, the group cannot help but ask why their lives are plagued with such strange coincidences. Perhaps it's "The Last Game" as prophesied by La of Opar that places Tarzan at its very center of a growing chaotic crisis. What will Tarzan do in the face of his seemingly never ending list of treacherous enemies? Will his family and friends make it through their extravagant experiences alive themselves? And will Tarzan accept his destiny as a hero, or seek a simpler life void of Adventure? We implore you to listen to Freshly Squeezed Pulp's The Adventures of Tarzan® to find out the answers to these questions and more!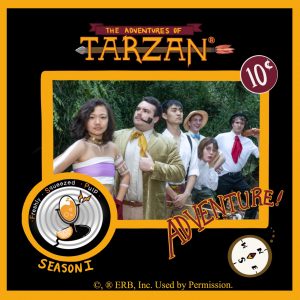 Freshly Squeezed Pulp is a vintage comedy podcasting troupe from Duke University that produced pulp-inspired podcasts in the style of golden-age radio.
Freshly Squeezed Pulp: A New-Time Take on Old-Time Radio!
Copyright © Edgar Rice Burroughs, Inc. All Rights Reserved. Trademarks TARZAN®, TARZAN OF THE APES™, LORD OF THE JUNGLE®, LORD GREYSTOKE™, TARZAN AND JANE®, JANE PORTER™, JANE CLAYTON™, KORAK™, AND EDGAR RICE BURROUGHS® Owned by Edgar Rice Burroughs, Inc. Associated logos, characters, names, and the distinctive likenesses thereof are trademarks or registered trademarks of Edgar Rice Burroughs, Inc. Used by permission.