A Princess of Mars: The Deluxe Manuscript Edition is the fifth title in the ERB Limited Edition Collection. The set is published by Edgar Rice Burroughs, Inc., and includes a leather-bound book in dust jacket, a manuscript portfolio, a handcrafted dip pen, and a Dejah Thoris medallion, all housed in a 7″x10″ custom decorated case. This represents what we believe to be the most elaborate and unique edition of A Princess of Mars ever published.
Each set features:
• A Leather-Bound Book limited to 500 numbered copies signed by the artists and contributors with a corrected text, new foreword and preface.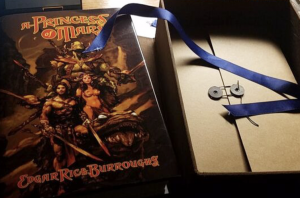 • 20 Color Plates featuring the original five full-color Schoonover paintings and works by Frazetta, Abbett, Whelan, Manchess, and Miller, and including 4–6 new paintings commissioned for this edition (by artists such as Iain McCaig, Dave Dorman, Thomas Gianni, Tom Grindberg, Doug Klauba, and others).
• A Custom Case covered in Cialux cloth, with spine titling and decorations debossed in gold and 1st edition dust jacket illustration inlaid on the lid.
• ERB Manuscript Portfolio (1911–1912) for "Under the Moons of Mars" containing replica manuscript pages, editor letters, the Munsey check to ERB for UMM, and first publication pulp cover and pages.
• Manuscript Pen (1911-1912) replica of the dip pen used by ERB to write the holographic manuscript for "Under the Moons of Mars."
• 2″ Dejah Thoris Medallion 3D portrait design in antique silver accented in gold, numbered to match the book and inserted inside the custom case.
• New Dust Jacket artwork and color Barsoom Map endpapers.
• 30+ Black-and-White Illustrations by Tom Yeates and others.
Now shipping! Order A Princess of Mars: The Deluxe Manuscript Edition today from ERB Books.  
Copyright © Edgar Rice Burroughs, Inc. All rights reserved. Trademarks including Edgar Rice Burroughs®, A Princess of Mars®,  John Carter®, John Carter of Mars®, Warlord of Mars®, Dejah Thoris®, Tars Tarkas®, and Barsoom® owned by Edgar Rice Burroughs, Inc.