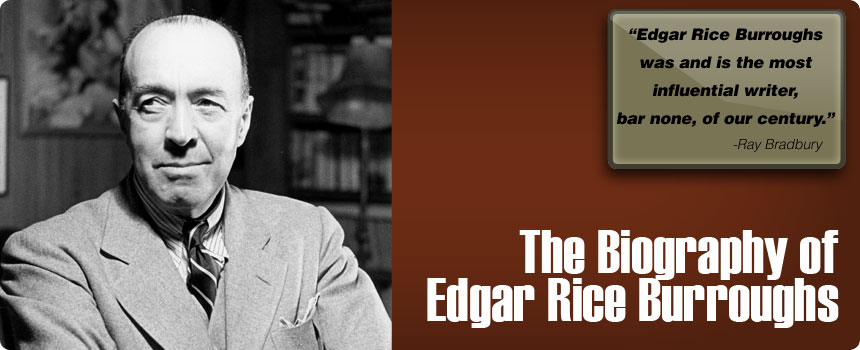 EDGAR RICE BURROUGHS™ BIOGRAPHY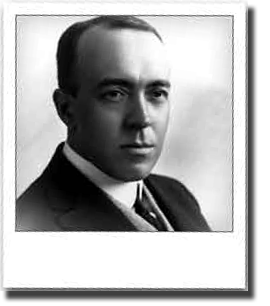 From the day he was born, in Chicago, on September 1, 1875, until he submitted one-half a novel to All-Story Magazine in 1911, Edgar Rice Burroughs™ failed in nearly every enterprise he tried
He attended half a dozen public and private schools before he finally graduated in 1895 from Michigan Military Academy, an institution Burroughs himself described as "a polite reform school."
Having failed the entrance examination to the U.S. Military Academy at West Point, he enlisted as a private in the Seventh U.S. Cavalry, for he had the notion that he might still obtain a commission as an officer if he distinguished himself in a difficult assignment. Thus, he asked to be sent to the worst post in America–a request the authorities speedily granted.
The post was Fort Grant in the Arizona desert, and his mission, as he put it, was to "chase the Apaches". "I chased a good many Apaches", he tells us, "But fortunately for me, I never caught up with any of them."
Private Burroughs soon had his fill of Fort Grant, and after appealing to his father for help, his discharge was arranged through political friends. In 1900, he married Emma Centennia Hulbert, who dutifully followed him back and forth across America during the next eleven years.
He became a cowboy in Idaho, then a shopkeeper, a railroad policeman, a gold miner, and even an "expert accountant", although he knew nothing of the profession. Throughout this period he somehow raised money for a number of his own businesses, all of which sank without a trace.
Life was dismal for the newly-married couple. Burroughs became depressed, his wife discouraged. Perhaps to escape from the grim reality of his own life, or perhaps to amuse Emma, he would often sketch darkly humorous cartoons or write fantastic fairy tales of other worlds.
Much later, he was to confirm the fact that he wrote all his stories, particularly those of other worlds, as much for his own entertainment as for that of his readers.
"In all these years I have not learned one single rule for writing fiction. I still write as I did 30 years ago; stories which I feel would entertain me and give me mental relaxation, knowing that there are millions of people just like me who will like the same things I like. Anyway, I have great fun with my imaginings, and I can appreciate–in a small way–the swell time God had in creating the Universe."
By 1911, Burroughs' position had become so desperate that not even his cartoons and stories could block out the frustrating fact of his successive failures. He hardly knew where to turn next, and even went so far as to apply for a commission in the Chinese Army. (The application was summarily rejected.)
Finally he reached rock bottom. He was 35 years old, without a job, without money. There was a wife and two children to support, and a third child was expected soon. He could buy food and coal only by pawning his watch and Emma's jewelry.
"Then," he tells us, "somehow I got hold of a few dollars and took an agency for the sale of a lead-pencil sharpener. I would not try to sell the sharpeners myself, but I advertised for agents and sent them out. They did not sell any pencil sharpeners, but in the leisure moments, while I was waiting for them to come back to tell me that they had not sold any, I started writing UNDER THE MOONS OF MARS, my first story."
"I had no idea how to submit a story or what I could expect in payment. Had I known anything about it at all, I would never have thought of submitting half a novel, but that is what I did. Thomas Newell Metcalf, then editor of All-Story Magazine, published by The Prank A. Munsey Co., wrote me that he liked the first half of the story and if the second was as good he thought he might use it. Had he not given me this encouragement, I would never have finished the story and my writing career would have been at an end, since I was not writing because of any urge to write nor for any particular love of writing. I was writing because I had a wife and two babies, a combination which does not work well without money.
"I finished the second half of the story and got $400 for first magazine serial rights. The check was the first big event in my life. No amount of money today could possibly give me the thrill that this first $400 check gave me."
Today, that story is acclaimed by scholars as the turning point of 20th century science fiction, and new editions of it continue to be published each year throughout the world.